East Cooper clinic welcomes patients, MUSC employees

by Mary Helen Yarborough




Public Relations


As neighborhoods develop farther from the main campus, the Department of Family Medicine is extending its reach to make medical care accessible and convenient to MUSC employees and patients who live in these outlying areas.

In the fast-growing reaches edging north toward Georgetown, MUSC's East Cooper University Family Medicine (ECUFM) recently expanded its clinic located at 1145 Six Mile Road (just past the Isle of Palms connector and across from Laing Middle School) to reflect demand.

Its theme, "Welcome Health East Cooper," illuminates the consistency of qualified medical treatment and preventative care of the MUSC medical service system in Mount Pleasant, "and providing access to a growing, vibrant county," said Joseph J. Benich III, M.D., one of three attending physicians practicing at ECUFM. The other physicians are Wanda Gonzalves and Fred Michael.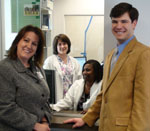 Practice manager Diana Hall (left), administrators Tracy Bupp, back left, Makesha White, and Dr. Joseph Benich welcome Mount Pleasant residents to East Cooper University Family Medicine clinic on Six Mile Road.



This clinic operates much like any other family doctor's office where medical treatment, immunizations and referrals can be obtained.

"We treat any type of patient: young and old; and we can make any referrals they want, whether it's to a dermatologist, ENT, orthopaedist, OB/GYN, or any other specialists," said Benich. "We'd like to remind employees of MUSC and their neighbors that we're here. ...We serve all patients and we take a broad spectrum of insurance." The center also accepts Tricare, according to Diana Hall,
ECUFM practice manager.

Located just before The Brickyard, Ivey Hall and Park West communities, the East Cooper center is staffed with an attending physician, or those who teach other doctors; two nurses; and an administrative team.

The benefits for MUSC employees who utilize the clinic includes same-day service and cost-savings such as those available at other MUSC centers. The medical information also is input into the database that is readily available to one's primary care physician or specialist with the MUSC medical service system. "Coming to this clinic (as opposed to a non-MUSC clinic) eliminates issues of physician networks," said Hall. "We also use the same record system as the rest of MUSC."

Like the Family Medicine Center on Calhoun Street, "We can accommodate same-day service, but we keep a few slots open for walk-ins," Hall said. "We prefer people to call for an appointment to cut down on long waits. It's always better for the patient if they can rest at home, rather than sitting for long periods in the waiting room."

The clinic, which has been at this location for three years, may be best known for the services provided by medical students at night. But a population boom and a shift in demographics meant adding more staff and hours to accommodate family patient needs during the day.

For more information, e-mail ecufm@musc.edu or for an appointment call 876-7100.




Friday, Feb. 6, 2009

The Catalyst Online is published weekly by the MUSC Office of Public Relations for the faculty, employees and students of the Medical University of South Carolina. The Catalyst Online editor, Kim Draughn, can be reached at 792-4107 or by email, catalyst@musc.edu. Editorial copy can be submitted to The Catalyst Online and to The Catalyst in print by fax, 792-6723, or by email to catalyst@musc.edu. To place an ad in The Catalyst hardcopy, call Island Publications at 849-1778, ext. 201.