Women's history month


Psychologist devotes life to helping women

This is the second in a series of articles honoring MUSC women who have changed the face, landscape and direction of MUSC and the medical center. This year's theme is Women Taking the Lead.
by Mary Helen Yarborough




Public Relations


The freezing cold did not deter Connie Best, Ph.D., from spending a December night on the USS Yorktown with her daughter's Girl Scout troop. And none of the many high level meetings around the country has kept this nationally-acclaimed clinical psychologist from balancing the personal and professional aspects of her life.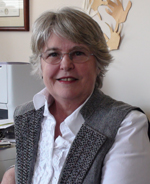 Dr. Connie Best



Best, a professor in the Department of Psychiatry, recalls the juxtaposition of the freezing night on Charleston Harbor spent with a group of enthusiastic girls to the following morning when she traveled to address an assembly of U.S. attorneys in San Antonio.

"I wouldn't trade that night on the Yorktown, or any time I have spent with my family and doing things with my daughter," said the Gaffney native. "The enthusiasm of the girls, in spite of the freezing cold, as they learned about that ship and World War II, was really inspiring."

Best typifies the extraordinary women in our society who manage a successful career, a family life and volunteer duties in the community.

An expert on sexual assault and post traumatic stress disorder, Best is one of the founders of People Against Rape, having volunteered for the area rape crisis center since it opened in 1974.

Best was raised an Air Force brat but spent most of her childhood in San Antonio. She graduated from the University of South Carolina and earned her Ph.D. from the University of North Texas. She then interned at MUSC, where she also had a fellowship in clinical psychology. Back then, women who had been victimized by sexual assault didn't have many places to turn.

"I was volunteering as a rape crisis counselor in the ER and would see women whenever they would show up—at all hours of the night or day," Best recalled. "Helping these women has been a part of my professional life, but it also helped form who I am as a person."

More recently, she has testified before the Veterans' Affairs Committee of the U.S. Senate about the severity of sexual assault against women in the military. Having served in the U.S. Navy Reserves as a psychologist, Best had long been aware of sexual assault against women in the military, but the Veterans' Administration had been slow to deal with it.

"It is far better than it used to be," said Best, explaining that the VA is including better treatment and services for these women returning from combat and after their discharge from the military.

Best was inspired by her mother who worked and raised a family that included caring for her father and brother, who both developed and recovered from polio. "My mother was a great role model," said Best, who also is director of the Office of Gender Equity for MUSC. "She worked her whole life and never complained. Both of my parents were great in their support of me, saying 'you can do anything you want to. You have to make good grades and you just have to keep on trying. You have to persist.'"

She also has learned from her patients. "Working with my patients over the years, I'd think a lot about what my patients were dealing with," Best said. "I have gained strength from my patients who, despite what has happened to them, are able to get themselves up and persevere."

Her persistence has resulted in numerous honors, including the 2000 S.C. Outstanding Lifetime Contribution to Psychology Award and a special recognition in 1995 by the U.S. Department of Justice (DOJ) Office of Victims of Crime. But one experience was especially rewarding to her.

In 1996, President Bill Clinton and U.S. Attorney General Janet Reno awarded Best with the President's Award for Outstanding Service on Behalf of Victims of Crime. "This is what I am most proud of," she said, smiling. "The ceremony was in the White House. My mother, brother and husband were there. Although it was given to me, it was also recognition of a group of people here at the MUSC National Crime Victims Center whose effort on behalf of crime victims made that moment possible."

The author of many prestigious papers, studies and chapters in books, Best chuckles at what impresses most people she encounters. "I can write scientific articles all day long," she said, "but people tend to express more surprise when they learned that I've been on the Oprah Show as an expert—twice."

Oprah Winfrey asked Best to appear in a series of shows that dealt with women who have experienced sexual assault. "It is important, though, because the mass media does provide an opportunity for us to share what we have learned from research with the average person."

At this point in her career, Best would like to devote more time to mentoring junior faculty and serving on national task forces, such as those that deal with psychological trauma from disasters including Hurricane Katrina and the Sept. 11, 2001, terrorist attacks.

Relieved for her daughter that the world has opened up for women, Best hopes she will also be able to pursue her dreams without having to deal with sexual discrimination or harassment. "I tell her to keep her eye on the ball, keep going, and be sure
to laugh," Best said.



Highlights


As a senior faculty member at the National Crime Victims Research and Treatment Center (NCVC), Best has served as the director of Adult Services since 1985. Best has been the principal investigator on 10 grants and co-investigator on 16 others from funding sources such as National Institute of Mental Health (NIMH), National Institute on Drug Addiction, Health Resources Services Administration (HRSA), DOJ, and the Substance Abuse and Mental Health Services Administration. She has an extensive list of scientific publications and invited presentations before national audiences. Among the national advisory committees she has served include the National Academy of Science's Institute of Medicine; the Joint NIMH/Department of Defense/DOJ Mental Health and Mass Violence Consensus Committee; and the Secretary of Defense Advisory Committee on Women in the Services; and the International Association of Chiefs of Police. The focus of her research and clinical work is in the areas of the effects of criminal victimization, psychological trauma, and the effects of natural disasters. Best is actively involved in examining the effects of disasters and terrorism. She recently concluded her work on a HRSA-funded bio-terrorism grant and is currently an investigator on an NIMH disaster grant.


Friday, March 13, 2009

The Catalyst Online is published weekly by the MUSC Office of Public Relations for the faculty, employees and students of the Medical University of South Carolina. The Catalyst Online editor, Kim Draughn, can be reached at 792-4107 or by email, catalyst@musc.edu. Editorial copy can be submitted to The Catalyst Online and to The Catalyst in print by fax, 792-6723, or by email to catalyst@musc.edu. To place an ad in The Catalyst hardcopy, call Island Publications at 849-1778, ext. 201.