Students promote dental health at Memminger Elementary

Seven dental students who are members of the College of Dental Medicine's Student National Dental Association (SNDA) visited Memminger Elementary School Feb. 24 to conduct science experiments and talk to students about the value of good oral health and hygiene.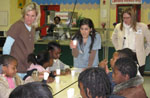 Members of SNDA visit with students at Memminger Elementary School to discuss the value of good oral health and hygiene on Feb. 24.



Participating dental students included Rula Shalabi, Ike Davis, Danielle Gill, Joe Vuthiganon, Sparkle Pompey, Gabrielle Cannick and Elizabeth Sutton. Each student was grouped with students in grades 4 through 6. They performed a tooth decay experiment, which involved dissolving some Tums anti-acid tablets in a cup of both vinegar and water and noted the results. Students were very involved and asked questions.

"Our dental students really enjoyed being involved and especially the interaction with children. We already are planning to continue this again for next year," said Pompey, a fourth-year dental student and SNDA president.

Participating students received a bag that contained coloring and dental care activity sheets, a list of "good" snacks, a toothbrush and toothpaste.

SNDA originated from concerned dental students at Meharry Medical College in 1970, and was incorporated in 1972, more than 50 years after its parent group, the National Dental Association, was founded. SNDA was created to encourage and promote minority recruitment/retention of dental students, finding ways to meet the dental health needs of minority and underserved communities, as well as creating a relationship between the SNDA members and MUSC's chapter.

SNDA has evolved to become a helpful tool for minority dental students in establishing and providing a network of communications among students as a means of improving dental care among under-represented individuals and communities.


Friday, March 13, 2009

The Catalyst Online is published weekly by the MUSC Office of Public Relations for the faculty, employees and students of the Medical University of South Carolina. The Catalyst Online editor, Kim Draughn, can be reached at 792-4107 or by email, catalyst@musc.edu. Editorial copy can be submitted to The Catalyst Online and to The Catalyst in print by fax, 792-6723, or by email to catalyst@musc.edu. To place an ad in The Catalyst hardcopy, call Island Publications at 849-1778, ext. 201.