Donation creates elite endowed chair

by Megan Fink




Public Relations


MUSC now has one of only two international ophthalmology chairs in the country thanks to a large gift from longtime Storm Eye Institute (SEI) patient and donor Bruce G. Pratt, DVM. In addition to establishing the prestigious chair, the $1.5 million donation will be used to attract and train American eye surgeons who plan on serving developing countries around the world.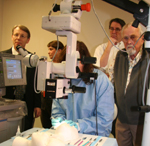 Drs. Ed Wilson, left, and Bruce Pratt, far right, observe Dr. Helga Sandoval make an opening in the lens sac of a pig's eye. Sandoval replaced the cloudy natural eye with an artificial lens.



A retired veterinarian from Beaufort, Pratt has been coming to SEI for eye care for more than half-a-century. The endowed chair donation is not Pratt's first gift to SEI. A teaching and videography room located in the institute also bears Pratt's name. The philanthropist also enjoys fishing and spends a large portion of the year in Costa Rica, a country plagued with preventable blindness in both its child and adult populations. This is where Pratt noticed a need for modern eye care.

"I wanted to support Storm Eye Institute because of the excellent care that Storm Eye has provided to me for 50 years and because of the work that the SEI International Center does in the developing world," said Pratt. "I have seen the impoverished in Costa Rica whose sight could be saved by the type of cataract surgery that Dr. (Edward) Wilson (SEI chairman) will be training U.S. ophthalmologists to do in areas like Costa Rica, Guatemala and Ethiopia. More specifically, I have a close friend in Costa Rica who is going blind with glaucoma and a detached retina because of a lack of good ophthalmic care."

Within the scope of international ophthalmology, SEI will provide an annual course for American eye surgeons who are preparing to serve overseas. In addition, the Pratt professor would oversee all the activities involved with bringing international teachers to MUSC to train; educating the teachers before they return to their native country. A portion of Pratt's gift was put into an expendable fund to finance these projects associated with the international ophthalmology chair program.

"It's incredibly important, because Dr. Pratt has been coming here for eye care for more than 50 years and has given to us before," said Wilson, M.D. "I think this is much closer to his heart. He spends much of his time in Central America and knows firsthand some of the preventable blindness occurring in that part of the world. He's going to help us contribute to eradicating preventable blindness."

Several factors contribute to the high incidence of cataracts, or clouding of the eye lens, among developing nations and indigent populations. Factors include poor nutrition, prolonged exposure to ultraviolet light, and a lack of preventative eye care. To repair a cataract-inflicted eye, surgeons insert an artificial lens to replace the damaged natural lens.



Friday, March 20, 2009

The Catalyst Online is published weekly by the MUSC Office of Public Relations for the faculty, employees and students of the Medical University of South Carolina. The Catalyst Online editor, Kim Draughn, can be reached at 792-4107 or by email, catalyst@musc.edu. Editorial copy can be submitted to The Catalyst Online and to The Catalyst in print by fax, 792-6723, or by email to catalyst@musc.edu. To place an ad in The Catalyst hardcopy, call Island Publications at 849-1778, ext. 201.