Grants from license plate funds awarded

by Mary Helen Yarborough




Public Relations


Prompt success from a special South Carolina license plate project has resulted in the first set of annual grants awarded by the Children's Hospital Volunteer Advisory Committee (VAC). The grants, announced during a special meeting March 12, will help improve the care and experience of pediatric patients and their families.

Endorsing recommendations of its finance committee, VAC announced recipients of grants totaling $10,000 that will support child-friendly clinics, ease a family's pain from losing a child, and connect a patient relegated to therapeutic isolation to virtual interaction with others and life in the Atrium.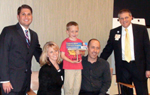 Joey Benton (center) gathers with the Volunteer Advisory Committee chairman John Brisini (left), Adams' Outdoor's Sharon Murbarger, John Fitzpatrick (seated), and Children's Hospital administrator John Sanders (right) during a meeting announcing grants from funds raised through sales of a special license plate. Adams Outdoor presented Joey with a handheld version of the billboard the company donated to promote the license tag.

The meeting at Ashley River Tower also featured the star of the license plate and billboard campaign, Joey Benton, the 6-year-old cystic fibrosis (CF) patient, whose smiling face was posted along busy interstate highways. He received a replicated handheld version of the billboard that was produced and donated by Adams Outdoor advertising.

Standing on a chair to address the surrounding committee, Joey told of his experience and appreciation for helping others.

"I enjoyed being the spokesman, and I liked interviewing on TV and radio," said Joey. He recently had a feeding tube implanted to help him consume more nutrition and boost his weight. But on this late afternoon, as he looked at the adults seated around him, Joey's enthusiasm, hope and willingness seemed insatiable. "I was glad that I could do this and what we were doing was going to help other people. ...What else can we do to get the word out on this license plate? I want to do more."

The license plate will continue to sell and raise money to help improve the clinical experiences of children like Joey. "You know, everyone has to renew their license tags, and tag renewals could be any month during the year for a lot of people," said Christine Messick, Children's Hospital volunteer coordinator. "I have had so many people tell me that they wish they had known about the plate before they renewed, so I believe that now that more people are aware of it, a lot more people will participate in the tag campaign."

Adams Outdoor representatives Sharon Murbarger and John Fitzpatrick also received special recognition by VAC and Children's Hospital officials.

"The Volunteer Advisory Committee has no better friend than Adam's Outdoor," said VAC chairman John Brisini.

While the three year old VAC, a group of 14 Children's Hospital volunteers, raised money from a variety of fundraising efforts, its coffers blossomed with funds generated on the sale of a special Children's Hospital license plate. Launched in the fall of 2008, the license tag is a statewide partnership between the S.C. Department of Motor Vehicles and VAC, and will continue to support special VAC grant programs each year, Messick said.

Of the 13 grant applications, VAC selected four projects based on their merits, chance for enduring success and direct benefit to patients. They are:

Cleft palate bears: $500, which will support the purchase of teddy bears for 48 children with the most severe craniofacial defects. This grant will serve as a pilot study to fully evaluate the impact that the plush toys have on the patients. The study will involve evaluations and surveys coordinated between VAC and the Craniofacial Department.
Children's clinics: $3,800, which will be used to outfit 40 patient rooms with interactive wall-mounted seal life toys. The children's clinics see 65,000-70,000 patients a year, but the rooms are stark and clinical, and not comforting to children. The special wall-mounted displays include interactive removable, washable, soft sea life toys that attach to the colorful displays. These displays will be mounted in 40 of the 77 exam rooms located in Rutledge Tower. (A test already has demonstrated positive responses from children in exam rooms, said Jason Kempton, VAC board member.)
Bereavement program: $1,800, which will be used for the Passages Program to purchase 65 "memory boxes." These special bereavement packages will include materials (hand castings and professionally-designed boxes) that families of deceased children can use to memorialize their child. "The purpose of the these boxes is to provide a remembrance gift that is dignified, permanent and aids in the grieving and healing process," Kempton said.
Ozzy's Project: $3,900, which will be used to provide isolation patients with laptops and Web cameras, therapeutic resources, and toys for Ozzy's Project, named for a child who recently died of CF. "The purpose of the project is to support and normalize life for patients in isolation," Kempton said. "It will help increase the level of therapeutic support and intervention, and also reduce limitations in the hospital by increasing access to resources normally withheld in required isolation." MUSC Information Technology (IT) will assist in providing IT support, including the ability to link isolated patients, via videoconferencing tools, to activities and resources in the Atrium. Two computers and networking software, as well as age-appropriate therapeutic toys and resources will be purchased with grant money.

Of the $50 fee to purchase the plate, $42 goes to the Children's Hospital. Supporters can donate each year when they renew the use of the license plate along with their vehicle registration.

To purchase a special Children's Hospital license plate, visit http://musckids.com/news/license_plate.htm or go to the local DMV office.



Friday, March 20, 2009