Neurologist honored with humanism award

by Cindy Abole




Public Relations


Robert P. Turner, M.D., associate professor in the departments of Neurology, Pediatrics, Neurological Surgery and Biostatistics, Bioinformatics & Epidemiology, and pediatric neurologist, was honored among 44 national physician-finalists for the 2008 Association of American Medical Colleges (AAMC) Humanism in Medicine Award. This student-driven award honors medical school faculty who exemplify the qualities of a caring and compassionate mentor, teacher and advisor to medical students on campus. The award reinforces the supportive and collaborative learning environment within medical school and promotes these qualities in the doctor-patient relationship.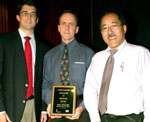 Charles Peyton,left, and Dr. Jeff Wong, associate dean for medical education, College of Medicine, present Dr. Robert Turner with his Humanism in Medicine Award.



"Dr. Turner is renowned for the quality of his teaching, enthusiasm, compassion, service and humility. These qualities and the overwhelming endorsement received on behalf of him from students at all levels made his nomination stand out from the rest," wrote Annie Leylek, a third-year COM student and AAMC Organization of Student Representative (OSR) representative who prepared Turner's nomination entry.

Turner received his medical degree and subsequent residency in pediatrics from the University of Nebraska Medical Center. Turner completed his master's in clinical research at MUSC in 2003. He was the director of MUSC's Pediatric Epilepsy Program and is medical director of clinical neurophysiology. Turner has been recognized with several clinical and teaching awards, including the Golden Apple, Faculty Excellence, Physician of the Month and AREA awards.

"Dr. Turner generously offers his compassionate service and energetic brilliance daily. He has truly impacted MUSC as an institution, the lives of its patients, and the practice of physicians in South Carolina and across the United States. But his greatest achievement is that he continues to serve as an inspiration to MUSC's next generation of doctors and nurses and reminds us of the humanism in medicine," wrote Leylek.

"One needs only to follow Dr. Rusty Turner in his clinic a short time to appreciate his love of teaching at every level, his gift for healing children and families, and his patients' and colleagues' genuine admiration for him. Students who have the privilege of working with him in the hospital setting laud his encouraging, positive approach to clinical collaboration and the outstanding example that he sets as a physician."

Every year, AAMC, with support from the Pfizer Medical Humanities Initiative, has sponsored this national award. Medical schools work with a AAMC Organization of Student Representatives representative (Charles Peyton, College of Medicine student) and the COM student body for award nominees. Candidates are judged on five qualities and characteristics: positive mentoring skills; involvement in community service; compassion/sensitivity; collaboration with students and patients and modeling ethics of the profession. Each year, only one physician is honored with the award but finalists were recognized with a plaque.

Previous winners of this award include Patricia G. McBurney, M.D., Pediatrics; Sunil J. Patel, M.D., Neurosciences; Julius Sagel, M.D., Endocrinology, Diabetes & Medical Genetics; Victor Del Bene, M.D., former associate dean of students; and Paul Pritchard III, M.D., Neurology.





Friday, March 20, 2009

The Catalyst Online is published weekly by the MUSC Office of Public Relations for the faculty, employees and students of the Medical University of South Carolina. The Catalyst Online editor, Kim Draughn, can be reached at 792-4107 or by email, catalyst@musc.edu. Editorial copy can be submitted to The Catalyst Online and to The Catalyst in print by fax, 792-6723, or by email to catalyst@musc.edu. To place an ad in The Catalyst hardcopy, call Island Publications at 849-1778, ext. 201.