Visiting student finds university 'congenial'

by Mary Helen Yarborough




Public Relations


While the education level is fairly comparable between MUSC and Austral University, one young man studying here from Chile has found the College of Dental Medicine experience to be congenial and engaging.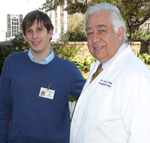 Cristabol Salinas, left, with Dr. Carlos Salinas.



Cristabol Salinas, 22, has spent six weeks studying alongside third-and-fourth year dental and medical students. The native of Valdivia, a city in southern Chile, found the faculty at MUSC to be particularly warm and helpful and the advances in dental medicine here exciting.

"I spent time in the craniofacial clinic and the pediatric OR, and I watched Dr. [Richard] Kline perform oral surgery in which he repaired a cleft lip. It was fantastic to see," Salinas said.

Salinas was struck by the kindness and patience of the faculty. "Everyone, the teachers, the students, are very nice. They included me in the discussions and provided me with the handouts," he said. "This experience has contributed much to my professional and personal growth."

The son of a veterinarian, Salinas said he will describe to his professors and fellow classmates in Chile "how nice, calm, meticulous and parental the teachers are here.

"They make you very comfortable and that really makes me want to learn," he said. "The education here is very practical so that everybody is given the same opportunity to learn."

As a fourth-year student in Chile, Salinas said he is at the same level as a third-year student here. "The education is about the same, so I wasn't that much behind," he said. "I am told that I was well-prepared, ... (but) the knowledge is so advanced here."

Salinas, who happens to be the nephew of Carlos Salinas, DMD, director of craniofacial genetics, said he was inspired by the procedures and the expertise of the surgeons, and support from his fellow students, namely fourth-year College of Medicine student, Jeffrey Taylor with whom he plans to stay in touch.

Above all, Salinas was inspired to return to MUSC.

"That will be my first goal to get my residency here at MUSC. I want to do my periodontal residency here," Salinas said. "I have seen the coolest stuff."



Friday, March 20, 2009

The Catalyst Online is published weekly by the MUSC Office of Public Relations for the faculty, employees and students of the Medical University of South Carolina. The Catalyst Online editor, Kim Draughn, can be reached at 792-4107 or by email, catalyst@musc.edu. Editorial copy can be submitted to The Catalyst Online and to The Catalyst in print by fax, 792-6723, or by email to catalyst@musc.edu. To place an ad in The Catalyst hardcopy, call Island Publications at 849-1778, ext. 201.