Medical Center

'Making a difference every day'

You make a difference
Mary Clare was 1-day-old, a tiny baby girl born with "only half of her heart."

"My little great-niece, who had heart surgery when she was a day old at MUSC, is now a beautiful 18-month-old girl. She needs one more surgery to repair her heart, and will go back to MUSC for that final surgery in a year or so. Thanks for a beautiful little girl. I truly appreciate all the wonderful people at MUSC."


—A thankful great aunt



"We have often discussed how amazing everyone is at MUSC, from the top doctors, to the parking attendant in the garage. (We call one of the parking attendants, David, because he looks exactly like a friend of ours named, David. Anyway, he knows this and is always joking around with us about it.) Dr. Bradley, Mary Clare's surgeon, made a huge impact. Once surgery is over, the surgeon's job is usually over and the cardiologists take over. Dr. Bradley made certain we knew every step of the journey and often checked in on Mary Clare, although technically he was done with her. He always remembered us, and spoke to us in the hallway if we passed him. It seemed that everyone knew who we were and made us feel like the only people in the hospital. Literally. Everyone was wonderful."


—Mary Clare's very grateful mom



All of these employees modeled MUSC Excellence.

We can all make a difference by providing excellent service and patient care. These family comments show how employees throughout our campus can make a difference to a patient's family. Never underestimate the difference you can make!

"You Make a Difference" e-mails feature stories of excellent service and care as a reminder of why we are in the health care business—to serve a purpose, have the opportunity for worthwhile work and make a difference. This is an opportunity for us all to be proud of the excellent service and care that is being delivered by you at MUSC.



Physician of the Month




Amy Ramsey, M.D.




"I nominate Dr. Amy Ramsey from the emergency department for this award. She approached me in late December with an idea of expanding the role of the ED volunteer to be more meaningful. I was so thrilled and so stunned by her visit, that even I was speechless for at least 10 minutes! We struggle to get the volunteers "integrated" into the units and to become a part of the clinical team, and to have an MD just embrace the concept was so wonderful! Dr. Ramsey came in on her day off to give an orientation on the "new process" and provide a tour of the ED. We had more than 30 volunteers attend and they all left feeling very good about the new direction their role has taken. Dr. Ramsey's praise for their time, soft-spoken manner and commitment to creating a worthwhile role for them had each and every one re-dedicated to MUSC. We are very grateful, and Amy Ramsey is fabulous!"


—Nominated by Katy Kuder





March Daisy Award Winner




Deanna Owens


"Deanna is a wonderful nurse. She took care of my little girls when she first started and was always so kind and compassionate toward my children and me. There is nothing harder than leaving your children in the hospital. It is so reassuring to know that your children are left in the hands of someone who cares so much for them.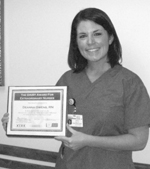 Deanna Owens



Working as a therapist in the Level 2 nursery, I get to see Deanna's continued care and compassion for all the babies she takes care of.

She goes above and beyond. She incorporates whatever activities the therapist suggests into the baby's daily routine and also uses many of her own ideas to help improve the baby's motor and cognitive skills. She helps us set up and clean up our treatment materials, which allows us to spend more direct time treating the patient. Deanna is well deserving of the Daisy Award. MUSC is lucky to have a nurse like her!"


—Submitted by Courtney Jarrard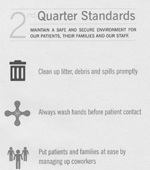 Friday, March 27, 2009

The Catalyst Online is published weekly by the MUSC Office of Public Relations for the faculty, employees and students of the Medical University of South Carolina. The Catalyst Online editor, Kim Draughn, can be reached at 792-4107 or by email, catalyst@musc.edu. Editorial copy can be submitted to The Catalyst Online and to The Catalyst in print by fax, 792-6723, or by email to catalyst@musc.edu. To place an ad in The Catalyst hardcopy, call Island Publications at 849-1778, ext. 201.