Program receives statewide recycling award

MUSC's Sustainability Program was named the 2008 Outstanding College or University Waste Reduction and Recycling Program by the S. C. Department of Health and Environmental Control (DHEC) on March 3.

Criteria for the award included educational efforts by the nominated program, expansion of the program, and its measured success.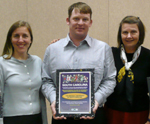 Representing the MUSC recycling team are Christine Cooley, from left, sustainability manager, Jason Metts, recycling coordinator, and Caroline Davila, communications for sustainability, receive DHEC's award in recognition of successful educational efforts and continuing expansion of the program.



A division of the Department of Engineering and Facilities, MUSC's sustainability team headed by Christine von Kolnitz Cooley, promotes recycling and energy efficiency to more than 11,000 faculty, staff and students through multiple venues, including The Catalyst newspaper, online broadcast messages, bulletin boards, the Internet and informational presentations throughout the year.

Also a competitor in the national RecycleMania for the past four years, MUSC has consistently ranked high among colleges and universities. Year-round, weekly collection of paper, plastic, glass, steel and aluminum is handled by this team of five full-time staff, one temporary employee and two part-time helpers. Housekeeping, grounds, maintenance, surplus and risk management staff provide assistance with daily collection of cardboard and other essential components for the success of the program.

"Success of this program has depended upon members of the MUSC community for choosing to participate, and for actively going out of their way to find the nearest recycling bin," said Cooley.

"This year's winner continues to excel as a community leader. By partnering with the city, county, local businesses and organizations, the university has improved waste reduction and recycling awareness. Recyclables collected on campus include paper, aluminum cans, plastic bottles, cardboard, books, batteries, scrap metal and cell phones. During the past year, more than 1,300 tons of municipal solid waste was recycled," said Tina Lindler, DHEC Office of Solid Waste Reduction and Recycling. "In addition to providing more than 1,400 locations for paper collection, this university expanded its shredding service in 2008. In addition to increasing the amount of paper recycled on campus, the university realized a $200,000 savings by shredding its own paper."




Friday, March 27, 2009

The Catalyst Online is published weekly by the MUSC Office of Public Relations for the faculty, employees and students of the Medical University of South Carolina. The Catalyst Online editor, Kim Draughn, can be reached at 792-4107 or by email, catalyst@musc.edu. Editorial copy can be submitted to The Catalyst Online and to The Catalyst in print by fax, 792-6723, or by email to catalyst@musc.edu. To place an ad in The Catalyst hardcopy, call Island Publications at 849-1778, ext. 201.