March is Social Work Month
Social work interns highlight experience


Working with MUSC medical, nursing and health professional students and staff, University of South Carolina interns help patients and their families find resources for services, or to pay for medical care expenses. These interns spend 16-plus hours a week as part of their graduate social work degree program. They help to provide support to isolated patients, and guidance to patients and families facing incredible odds and confusion.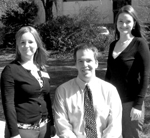 Social work interns are Elizabeth Britt, from right, Jeremy Koenemann and Julia Grimm.



In celebration of Social Work Month in March, the interns praise the professionals who work quietly and selflessly to provide assistance to patients who often are overwhelmed and helpless.



USC social work intern profiles



A Coldwater, Mich., native, Jeremy Koenemann has been working at Hollings Cancer Center under the direction of Elena Bell. He founded the Young-Adult Cancer Network which has received attention and support from the I'm Too Young for This organization (http://www.i2y.org). This network meets every other week for trivia nights and to volunteer at cancer agencies. Koenemann chose this field because he is devoted to the needs of cancer patients, caregivers and the profession of social work. Koenemann earned a bachelor's in social work from Michigan State University, got married and moved to Charleston where he is an advanced standing student at USC. He expects to earn his master's in social work (MSW) within a year.
Originally from Marion, Elizabeth Britt has been interning at the Heart & Vascular Center, Ashley River Tower, under the supervision of Beverly Lavoie. Britt also has served as a financial counselor for Patient Access Services for five years and helped uninsured and underinsured patients obtain financial assistance for hospital services. She also has helped locate resources for patients to obtain affordable medicines, and works with social workers and nurse case managers on disability and Medicaid referrals. As an intern and MUSC employee, Britt has gained experience working with clinical staff, and has witnessed clinical and financial staff provide optimal care to patients. Britt received her journalism degree from Winthrop University and is a part-time MSW student at USC graduating in May. Her social work interests are gerontology, hospice, international social work and poverty issues.
Rochester, Ind., native Julia Grimm has been working in the emergency department (ED) under the supervision of Stephanie Power. Her work in the ED includes conducting independent assessments, providing crisis intervention therapy and collaborating with staff on treatment planning for patients. Having worked this year with such issues as domestic violence, substance abuse, financial stressors, continued medical care, mental health and child abuse, Grimm's experience at MUSC provides her with important knowledge and skills. Her other experience includes working as a counselor for the United Way 211 Hotline, volunteering as a counselor for Camp Happy Days, and volunteering as a victim advocate with People Against Rape. She moved to Charleston five years ago after graduating with honors from Charleston Southern University with a Bachelor of Science degree in sociology. Currently a full-time first year MSW student at USC, Grimm will graduate in May 2010.

After graduation, Koenemann, Britt (class of 2009) and Grimm (2010) will pursue their social work careers equipped with the depth and experienced gained from working at MUSC, and with physicians, nurses, staff and students.


Social workers reach out to others in health care
by Jeremy Koenemann




Social Work Intern


For the past 25 years, March has served as a time to spotlight social work professionals who have assisted millions of individuals, groups and families in such fields as health care, adoption, corrections, child welfare and mental health.

At MUSC and across the nation, this month celebrates the profession and those who share their calling toward service, integrity and social justice.

MUSC is host to several social workers and a few students each year that serve to reduce hospital expenditures, promote the wellbeing of clients, advocate for patient rights, and serve many specialized units from oncology to pediatrics. These workers also provide support group services and other community referrals as needed.

The National Association of Social Workers is encouraging members of the community to heed a calling to advancing social justice. More committed people are needed to help in child welfare, hospitals, armed forces, mental health and many other settings. Anyone inspired by these missions should contact their local college/university and ask for information about becoming a social worker.

Simply stated, "Social work; help starts here." I, along with my fellow interns from the University of South Carolina, extend thanks to the MUSC social work staff and those in the greater Charleston area who worked with us.




Friday, March 27, 2009

The Catalyst Online is published weekly by the MUSC Office of Public Relations for the faculty, employees and students of the Medical University of South Carolina. The Catalyst Online editor, Kim Draughn, can be reached at 792-4107 or by email, catalyst@musc.edu. Editorial copy can be submitted to The Catalyst Online and to The Catalyst in print by fax, 792-6723, or by email to catalyst@musc.edu. To place an ad in The Catalyst hardcopy, call Island Publications at 849-1778, ext. 201.