Women's history month


Administrator embraces opportunities for change

This is the first in a series of articles honoring MUSC women who have changed the face, landscape and direction of MUSC and the medical center. This year's theme is Women Taking the Lead.
by Cindy Abole




Public Relations


When it comes to women and their contributions to MUSC's campus, Valerie T. West, Ed.D., has been the real thing, the real McCoy, the genuine article.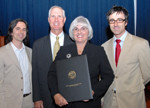 Like a dozen women before her, she's greatly contributed to the growth of the university by following a tradition of service, dedication and achievement. West has led the way among women faculty leaders as it relates to team building, curriculum design and organizational and community leadership.

Within her 40 year career, West has devoted her time to university service through the understanding and development of educational programs, improvements to promote student leadership, introduced the value of interdisciplinary health care teams, lifelong learning and preparation of faculty. She officially retires from the university on March 13.

"In every aspect, I've always wanted to do a good job, meet people, solve problems and help others and have fun doing it," said West. "These principles have allowed me to be the person who I really am."

Not one to prefer the limelight, West says "I didn't seek out a lot of my positions and roles throughout my career." She attended Colby-Sawyer College in New London, N.H. "I was most often approached by a teacher, faculty or administrators to provide leadership. I do things out of the pure joy of working with others and have always been interested in working with teams and problem solving. Basically, I'm a very positive, optimistic person who believes in finding a win-win solution with others. If I saw an issue that needed solving, I'd get involved."

A New York state native, West began her career at MUSC as a faculty member in the Health Information Administra-tion program in the College of Health Professions (CHP). There, she led in the development of the college's Bachelor of Health Sciences program working and traveling around the state with a faculty team to teach and promote adult education.

"I've been fortunate to have been given many opportunities in my career," West said. "I've always professed that one says 'yes' to these opportunities and worry later about the details of making it happen. I love change and I've been able to do a wide variety of things at MUSC."

During some of her tenure at CHP, she chose to work part-time to raise two sons while earning both a master's degree and doctorate in education from the University of South Carolina in Columbia. Her doctoral study focused on higher education, leadership curriculum development, concepts for teaching/learning and adult education. She names John Dewey, Malcolm Knowles and Stephen D. Brookfield as her educational role models.

Becki Trickey, Ph.D., special assistant to the dean, College of Health Professions, has known West since she began working in academic leadership in 1979. Trickey was a project director for several interdisciplinary federal grants awarded from the Bureau of Health Professions and has been a good friend and colleague.

"Valerie been an inspiration to so many people—both men and women," said Trickey. "She's genuinely passionate at what she does whether it's educational, academic, lifelong learning; she's dedicated to students as learners and that has helped her be a great teacher and collaborator. She genuinely believes that everyone can contribute and bring something to the table."

West also served as interim chair and chair of three different departments within CHP and helped create several teaching programs including the Doctor of Health Administration program in 1996. She led CHP as assistant dean for admissions, associate dean for academic affairs and interim dean for the college on two separate occasions (1990 to 1991 and 1998 to 1999). She also was involved in the training of health professions students for work in the state's rural areas through collaboration with South Carolina Area Health Education Centers known as the South Carolina Rural Interdisciplinary Program for Training or SCRIPT program. She also has been a faculty member in the College of Medicine's Family Medicine Rural Clerkship. West was praised by colleagues by being named CHP Teacher of the Year (1990) and recipient of the Governor's Distinguished Professor Award in 1991.

In 2001, West developed the university's Presidential Scholar's Program, a yearlong, interdisciplinary experience for 40 selected students and faculty that promotes leadership through interdisciplinary learning and experiences promoting team-work. Since then, more than 300 students have been named scholars. To recognize excellence among student leaders, she helped create the Student Leadership Academy in 2007.

In 2000, West was tapped to serve in university leadership as associate provost for Education and took over duties as dean of student life in 2002 where she directed student-related programs and later consolidated both programs to form the Division of Education and Student Services. She also led in the reorganization of the Office of Student Diversity in 2006 and renovations to the Education Student Center/Library (2005) and Colcock Hall (Office of the President in 2006).

West's legacy will be her dedication to students and faculty development. She will be remembered for her leadership in guiding the institution toward interprofessional education, team building and her contributions to the Creating Collaborative Care (C3) Initiative in 2006. C3 is the foundation for the university's 10-year Quality Enhancement Plan or course of action to develop interprofessional training in medical/health professions education as required by the Southern Association of Colleges and Schools (SACS) reaffirmation of accreditation. She also helped establish other related activities such as Interprofessional Day and she provided support for the Clarion Inteprofessional team competition.

On diversity issues, West established MUSC's partnership with the National Coalition Building Institute, which provides training, tools and strategies to promoting diversity and reduce prejudice on campus. Recently, West was the 2009 recipient of the Dr. Martin Luther King Jr. Recognition Award, a student award presented by the Black History Intercollegiate Consortium of which MUSC is a member.

On Jan. 19, West was presented with the MUSC Foundation's Distinguished Faculty Service Award, the university's highest honor recognizing her 40 years of outstanding service. Joining her was husband, Wally, and sons, Rich and John.

She attributes her career success to the opportunity of working with many talented people including MUSC President Ray Greenberg, M.D., Ph.D., John Raymond, M.D., DCI professor of medicine and vice president for Academic Affairs and Provost and Rosalie Crouch, Ph.D., former vice president for academic affairs and provost and professor, Department of Ophthalmology.

"Nurturing is how I'd describe Valerie and her commitment to raising her family and dedication to supporting students, faculty and patients at MUSC. Her interest and devotion to interdisciplinary education, the health professions and student leadership through the Presidential Scholars Program and other educational efforts should be commended. She brings a tremendous aspect to women leadership on campus," said Crouch.


Dr. Valerie West with Dr. Deborah Deas during West's retirement celebration.



Upon retirement, West hopes to travel and devote her time to other interests and hobbies including golf. She's sure she can share her talent for teamwork and organizational skills working in the Tri-county community as she returns to private life.

"Dr. West has conducted herself with equanimity, poise, grace, good humor and total dedication to our students and the institution throughout her career. She has been a superb teacher and committed mentor, a strong proponent of interprofessional education, and an eager and interactive participant in numerous committee duties. Her contributions and commitment to excellence, and her professionalism have been a source of strength and pride to this office and have benefited our institution enormously. We are fortunate that Dr. West has given so much of her time, energy and talents to our institution during her 40 years at MUSC," said Raymond.





Friday, March 6, 2009