Hollings Cancer Center awarded cancer institute designation

by Mary Helen Yarborough




Public Relations


The Hollings Cancer Center has attained National Cancer Institute (NCI) designation, a distinction held by only 63 other cancer centers in the United States, and the only such institution in the state.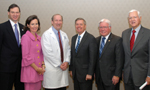 Dr. Ray Greenberg, from left, South Carolina first lady Jenny Sanford, Dr. Andrew Kraft, U.S. Sen. Lindsey Graham, U.S. Rep. Henry Brown and former Sen. Ernest Hollings.



During a dignitary-packed ceremony on March 2, MUSC President Raymond Greenberg, M.D., Ph.D., called it one of the most important achievements in MUSC's history. "Becoming an NCI cancer center is very difficult," Greenberg said. "It's a very competitive peer review process."

"It is a very big deal," said Sen. Lindsay Graham (R-SC). "I want the people in South Carolina to know what a big deal this is."

NCI based its decision on HCC's outstanding research facilities, commitment to research, leadership, and vision. NCI designation is accompanied by more than $7 million in federal funding to sustain and grow research efforts at MUSC. Graham said the economic impact to the state will exceed $65 million a year. The NCI designation awarded to cancer centers is characterized by scientific excellence and the capability to integrate diverse research approaches to focus on the problem of cancer. They play a vital role in advancing the goal of reducing morbidity and mortality from cancer. One way this is accomplished is through increased clinical trials that offer patients new drugs and treatment protocols that would be otherwise unavailable to them.

Designation also holds the potential to spur South Carolina's economy by attracting public and private funding for new endeavors. According to NCI, designated cancer centers are a major source of discovery of the nature of cancer and of the development of more effective approaches to cancer prevention, diagnosis, and therapy. They also deliver medical advances to patients and their families, educate health-care professionals and the public, and reach out to underserved populations. These centers are characterized by strong organizational capabilities, institutional commitment, and trans-disciplinary, cancer-focused science; experienced scientific and administrative leadership, research and advanced cancer research facilities.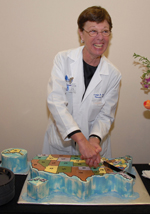 Dr. Carolyn Reed cuts the cake, which is in the shape of the United States. The states that have NCI designation were marked with silver buttons.



"Being named one of the top cancer research centers in the country signals that our researchers and physicians are leaders in discovery, developing, and delivering cutting-edge treatments based on laboratory research to patients in South Carolina and beyond," said Andrew S. Kraft, M.D., HCC director.

The immediate benefit to patients is increased access to early clinical trials offering promising new treatments.

"This is a distinction earned over many years through collaboration and innovation by dedicated researchers, clinicians, and staff throughout Hollings Cancer Center and MUSC," Kraft said. "By sharing what we know with other cancer centers and practices throughout our state, we can step up our war on cancer in South Carolina and beyond. Our citizens don't have to leave the state to find the most advanced research and protocols from an NCI center."

In 1993, HCC was named for Charleston native, former U.S. senator and S.C. governor, Ernest "Fritz" Hollings, (D-SC), a legendary leader whose persuasive speaking and teamwork with fellow Sen. Strom Thurmond helped win congressional support for South Carolina causes, including those related to health care.

"This is a true milestone for the Medical University of South Carolina," said Hollings. "One can see that the cancer building is a winner, but now all in the state can know that the doctors and staff of the cancer center are winners. Dr. Greenberg, Dr. Kraft, Dr. Reves and Dr. Reed, and the staff all deserve credit."

Under the leadership of former MUSC President Jim Edwards, DMD, and with the support of Hollings, MUSC set the goal of obtaining the NCI designation more than a decade ago, said Greenberg.

"NCI designation for the Hollings Cancer Center has been a top priority for MUSC for nearly two decades," said MUSC Provost John Raymond, M.D. "Designation is one of the pinnacle events for our university. Designation validates the Hollings Cancer Center as a national resource that will benefit our patients, students, faculty and staff; thereby creating a home for cancer prevention and treatment, research, education, and clinical care. So many people have contributed to this effort over the years, but special recognition should go to Hollings Cancer Center director Dr. Andrew Kraft, and his immediate predecessor, Dr. Carolyn Reed, for their leadership; and congressional delegations, especially senators Hollings and Graham. We are grateful for their steadfast support."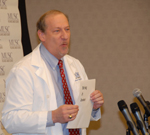 Dr. Andrew Kraft "bringing it home."



Graham worked with Hollings to "bring home" the designation. Graham said that HCC's score was the highest ever earned by an institution vying for designation in the first round.

"South Carolina is now in the major league of cancer research," Graham said. "Cancer is one of the leading causes of death in the nation and practically every family in our state has been impacted by this horrible disease. The designation as a National Cancer Institute will be a game changer for the thousands of South Carolinians with cancer. Hollings Cancer Center will take its place among an elite group of institutions in the major leagues of cancer research. The NCI designation only comes to the best and brightest. It is a compliment to the men and women who put in countless hours at this facility and recognition that the Hollings Cancer Center is among the best of the best in cancer research."




Friday, Feb. 27, 2009