by Melissa Lacas
Public Relations
Through his leadership, vision and financial support to the Department of Internal Medicine, John R. Feussner, M.D., Department of Medicine chairman, was named the 2009 Earl B. Higgins Achievement in Diversity Award winner.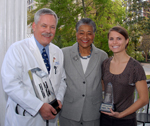 Lavelle Higgins, center, widow of Earl B. Higgins, presents the 2009 Earl B. Higgins Achievement in Diversity awards to Dr. John R. Feussner and Christanne Hoffman April 1. The awards were first presented in 1996 and are a tribute to the late Dr. Earl B. Higgins, former director of affirmative action and minority affairs at MUSC. The presentations are held annually on the first Wednesday in April.

E. Benjamin Clyburn, M.D., residency program director and vice chairman for education, nominated Feussner for the award, which celebrates an individual on campus who promotes equity and diversity in every aspect of work, service and diverse learning.

"Dr. Feussner is a visionary leader who consistently champions diversity," Clyburn said. "His efforts have transformed the culture in the largest clinical department on campus. Diversity is now an overt priority in recruitment."

Increasing the number of underrepresented physicians, faculty and staff from 3.8 percent to 12 percent is an example of Feussner's accomplishments since his arrival at MUSC six years ago.

"Dr. Feussner has made significant contributions to cultural diversity in medicine, is committed to increasing the number and success of minority medical faculty and has participated and directed research activities aimed at improving minority health," said Leonard E. Egede, M.D., director of MUSC Center for Health Disparities Research and associate professor of medicine. "He is an outstanding scholar and is deserving of the Earl B. Higgins Achievement in Diversity Award."

Feussner is the 14th recipient of this award, which was established in 1995 in tribute to Earl B. Higgins, Ed.D., who was director of affirmative action and minority affairs at MUSC. Higgins, a catalyst for minority recruitment, retention and enrichment programs, died Aug. 30, 1992, while in service to MUSC.

Prior to becoming chairman of medicine at MUSC, Feussner was chief of the division of general medicine at Duke University Medical Center from 1988 to 1996. He then served as chief research and development officer for the Department of Veterans Affairs (VA) from 1996 to 2002, where he oversaw more than $400 million per year in appropriations and directed the VA cooperative studies program. Feussner also served on President Clinton's Committee on Science in the Office of Science and Technology Policy in Washington, D.C.

Feussner accepted the award on April 1 at the Wickliffe House. He contributed his success to his supportive family and credited the Higgins legacy.

Student leader wins diversity award
Fourth year College of Medicine student Christanne Hoffman was awarded the Earl B. Higgins 2009 Student Leadership in Diversity Award.

Serving the community as co-president of the Alliance for Hispanic Health (AHH), Hoffman is a certified MUSC medical Spanish interpreter, fourth-year representative for the Emergency Medicine Interest Group and student teacher and interpreting volunteer at the CARES clinic.

"Christanne Hoffman is one of our brightest stars at MUSC and has contributed significantly to diversity efforts both on campus and in the greater Charleston community," said nominator Laurine T. Charles, associate professor and associate director of the Office of Student Diversity.

In addition to being named a 2006 Presidential Scholar, Hoffman was an inaugural scholar recipient of the 2008 MUSC Student Leadership Society, and was elected by her peers to the Gold Humanism Honor Society.

Learning more about Spanish culture while studying abroad in Costa Rica and Sevilla, Spain, Hoffman has always reached out to minorities and the Spanish community.

"Receiving this award is a great honor. I attribute my personal development, along with the success of the Alliance for Hispanic Health and other MUSC organizations to the amazing faculty, staff, and other student leaders on campus," said Hoffman.

Hoffman plans to maintain her practice of service and leadership by completing a residency in Emergency Medicine at the University of California San Diego, where she will be able to continue to reach out to the Hispanic community.

"Christanne leaves behind a legacy of service and leadership and yet is just beginning a lifetime of the same," Charles said. "I believe that Dr. Higgins would have been pleased to know her and work with her."

Earl B. Higgins Scholarship
The Earl B. Higgins Scholarship is given annually to one student from each college. The 2009 recipients are: Vandy T. Gaffney II, College of Medicine; Jennifer Holliday, College of Health Professions; Aisha K. Choudry, College of Nursing; James R. Marchall, College of Dental Medicine; Crystal Gayle, S.C. College of Pharmacy; and Nortorious Coleman, College of Graduate Studies.

The committee members are: Willette Burnham, Chair, Office of Student Programs & Student Diversity, Gwendolyn Brown, Dental Medicine, Steven Brown, Pharmacy, Ed Cousineau, Medicine, Wanda Gonsalves, Health Professions, Mardi Long, Nursing, David Neff, Ambulatory Care Services, Tom Smith, Center for Academic Excellence, William Spring, Hospital Administration, Cynthia Wright, Graduate Studies, Liz Sheridan, Immediate Past Recipient, Student Programs, Sheldon Bates, Dental Medicine; and Rhonda Walters, Student Diversity.




Friday, April 10, 2009