Employees of the Month
Janifer Smalls, Children's Appointment Scheduling


Janifer Smalls

On Jan. 6, Janifer Smalls, Children's Services, Appointment Scheduling, answered a phone call from a mother traveling from Lexington, with her minor child, in route to Rutledge Tower—Neurology Services. The parent had waited several months for this appointment in order to receive prescription refills for her daughter.

The mother explained to Jan that she was in the Ashley-Rutledge Parking Garage, but could not leave her car because she was severally hemorrhaging. The mom kept emphasizing how she needed to get her daughter to her appointment. The mom had already contacted emergency services to come to her; however, she was very worried about her daughter. Jan asked the mother to hold on the phone so she could contact the Neurology Clinic to inform them of the situation. After speaking with the clinic, Jan informed the mom that her child would be seen and that Jan would escort her daughter to her appointment.

Jan contacted Hospital Communications to ensure that an emergency call had been placed and that someone was in route to the mom in the parking garage. When this was confirmed, Jan walked to the ER to escort the patient to her appointment as promised. I'm certain that this was a huge relief and comfort to this mother during her own crisis.

This is an example of MUSC Excellence in action.
—Nominated by Carrie Weston

Kathleen Vanessa Stewart, Volunteer & Guest Services
Several weeks ago, an MUSC house concierge named Kathleen Vanessa Stewart did a very spiritual and thoughtful act for a family in need. She came down to the volunteer office and stated that she was helping a family from her area that was running low on funds. She went and paid for a night's stay at a hotel for the family because she was able to get a better rate for them. She said, "I have to do what's right, and I know the Lord will bless me in return for my good deed." That is truly going above and beyond.
—Nominated by Contrenia Haynes

---

Physician of the Month
Soon Ho Kwon, M.D., Endocrinology, Diabetes & Medical Genetics
Dr. Kwon is so good to my mother. He monitors her diabetes on a weekly basis, often personally calling to check on her progress. Today she is in for a cardiac procedure. He is not an attending on this case, yet he called her room to let her know that he is monitoring her and wished her good luck. He added that she is in his prayers. He is fantastic!
—Nominated by P. Geiger

---
Highest in Staff Satisfaction 2nd Quarter FY09
Banner Award Winner is Palliative Services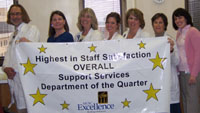 Paul Rousseau, from left, Dee Ford, Winnie Hennessy, Karanne Campbell, Tamara Bowman, Ramita Bonadonna and Jennifer Clark display the staff satisfaction banner which is won by the department with the highest score on the interdepartmental survey question: "If you have had any contact with a department in the last 30 days, rate how satisfied you are."

---
Get Well Network
The following comment was sent directly from a patient in the hospital through the Get Well Network, the interactive in-room television system located in most inpatient rooms.

Hello. I entered MUSC Ashley River Tower on March 9 for GI surgery. I developed complications and went from a regular room to the DDICU. I can't express the kindness, patience, understanding and knowledge given to me. I had two mini strokes, which caused me to be "out of it," and yet everyone from maintenance to the doctors continued to treat me like I was the president. They never brushed off a symptom, leaving no stone unturned. Despite my confusion from the strokes and complications, I was always treated with dignity and respect. I know that the staff here at MUSC not only saved my life but also added to it. God bless each of them and they will be in my heart forever. They have the highest class of knowledge, and their open hearts are real, and full. What better hands to be put into. Whether you are in the ICU or on a regular floor, you are always being well taken care of. I believe God sent me through a series of events that put me safely into the hands of all these wonderful human beings at MUSC. How do you thank this kind of people when you have nothing but words to say thank you? I'm not sure, but I'm trying and I pray that each person involved in my care realizes how grateful I will forever be.
—Eleanor Rutledge, Patient

---

Q2 Standard: Maintain a safe and secure work environment.
Clean up trash and debris
Wash hands before patient contact


Friday, April 10, 2009