by Cindy Abole
Public Relations
From Jan. 15 to March 26, 100 confident and healthier men and women proved that they had lots to lose and everything to gain as they completed the third MUSC Healthy Charleston Challenge (HCC). The group lost a total of 1,827.3 pounds – the most pounds lost since the program was established in January 2008.

Their hard-earned efforts are part of the Lowcountry's third HCC program sponsored by MUSC. This spring program featured teams composed of employees from various Charleston area businesses, middle school teachers, City of Charleston Fire Department staff and firefighters, City of Charleston employees, MUSC employees and clinical staff.

About 260 Lowcountry men and women completed three challenge programs and successfully lost almost 5,000 pounds within a year's time—transforming their bodies and lives as they adopted healthier lifestyles.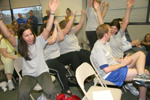 Trainer Katie St. Clair, front left, and Team Total Approach react to news of their first place win for losing more than 180 pounds in the Spring 2009 MUSC Healthy Charleston Challenge.

"This has been another inspiring and amazing experience," said Janis Newton, MUSC Harper Student Wellness Center program director and Challenge director. "This team approach with accountability, education and a strong focus on exercise and healthy eating has given these participants guaranteed results. They all made a commitment the first day of this program. They met the challenge, stayed focused and finished strong."

Participants competed in 11 sponsored teams of 10-12 individuals from area businesses and organizations including Anderson Insurance, the Culinary Institute of Charleston at Trident Technical College, Cario Middle School, Charleston County Parks and Recreation (CCPR), Joe D. Bands, Louie's Kids, MUSC Toe Seekers, MUSC Weight Management Center, MUSC Boot Camp, Ovie Mughelli Foundation and Total Approach Wellness/Performance Training.

Each week, teams would weigh in to record their weekly weight loss and percentage body fat loss and competed with each other with their results. Individual progress with participants also was recorded each week.

The top three winning teams in the spring 2009 challenge are : First place—Team Total Approach (Katie St. Clair, trainer), 180.8 pounds lost, 13.1 percent body fat lost; Second place—Team Anderson Insurance (Catherine Stephenson), 237 pounds lost, 13 percent body fat loss; and Team Culinary Institute of Charleston at TTC (Shannon Emmanuel), 202 pounds lost, 10.5 percent body fat loss.

Craig Lathey of Team Cario Middle School was the top male with the highest percentage body weight loss at 18.43 percent. Total Approach's Lindsey McMurry was the top female with 19.67 percent total body weight loss.

First place team winners and trainers received prize packages that included $100 cash, a pair of CCPR gold passes and a dinner experience by the Culinary Institute of Charleston at TTC. Second place winners received $50. All cash awards were given by Anderson Insurance, the Ovie Mughelli Foundation and Louie's Kids.

Throughout the 12-week competition, almost all participants lost weight, inches and body fat. They were able to draw upon the experience and help of their team trainers, a group of talented and experienced mentors, plus professional support that included program registered dietitian Judith Herrin, clinical psychologist Josh Brown, Ph.D., Alicia O'Connor, head trainer and Greg Shore, head mentor.

The program is supportive of a larger, statewide health prevention program and wellness campaign combating obesity and chronic disease called the Healthy South Carolina Challenge. It was founded in 2005 by Gov. Mark and Jenny Sanford.

"Its impressive that these HCC participants continue to stay active and committed to their goals. They continue to empower themselves by working out and trying new things from one of our many fitness classes to registering for our upcoming Triatholon training. I'm very proud they've committed to this lifelong lifestyle change," Newton said.

Applications to sign up for the Fall 2009 HCC program will be available in July. For information, contact Newton at 792-4141 or visit http://www.musc.edu/hsc/programs/healthycharlestonchallenge.html.
Nurse succeeds in weight-loss journey
Nurse manager Pam Smith joined the Spring 2009 Healthy Charleston Challenge (HCC) program for her own reason.

In 2005, she underwent gastric-bypass surgery and lost more than 90 pounds. Within the last few years, she noticed the pounds were creeping back on and feared she would gain back the weight and more. Friend, colleague and team mentor Laurie Zone-Smith, Ph.D., R.N., who completed the first HCC last January, encouraged her to participate.

"I didn't want to go back," said Smith, a busy single mom of two boys. "I learned through the program that we females are always putting others before ourselves in their needs—our children, family and friends. I learned that it was okay to make time for me and I felt good about it."

Smith and her MUSC Weight Management Center teammates were introduced to the Focus program, which like HCC, focuses on nutrition, exercise and behaviors. Through both programs, she learned how to eat properly by making healthy food choices and increased her level of exercise.

"It's been a life changing experience for me," said Smith, who lost 22 pounds and six inches off her waist. "Participating in this team concept really helped me and others find success. You get incredible support and encouragement through others who share the same goal. I encourage others to just do it and try it. It's well worth the effort."



Friday, April 17, 2009