Editor's note: Welcome to the Global Health page. The purpose of this feature is to raise awareness of global health issues with an academic spirit to help improve the quality of care provided to patients. E-mail globalhealthnews@musc.edu.

by Ségolène Lainez
Second year exchange medical student
One of the most striking things for a French person who comes to the United States and has to receive health care is to have to pay the doctor… with his own money!

Indeed, the French Social Security (SS) system enables any person living on a regular basis on French territory (having the French nationality or not), and regardless of their financial situation or state of health, to benefit from this social protection. To provide the money needed for that, the community adheres to the SS system and pays taxes. The relation with the state is complex: It has to give to the SS the product of different taxes collected from tobacco, alcohol and other products affecting health.

The SS is divided into four parts that we can simply understand as: disease, old age, family (includes also disabilities and housing) and recovery. For the section disease, some regulations have been set. For example, the "ticket modérateur" (deterrent fee) or the medical "franchises," consists of fixed small amounts of money that the assured has to pay for one medical act (like a medical visit or the purchase of one medicine). This money goes to special targets like Alzheimer's research or directly to the state.

The SS represents a total budget of 330 billion euros each year, in other words one fifth of the gross domestic product (GDP) of France. The downside is that the budget deficit increases each year, since government spending exceeds economical growth. First, the modern medical devices (like MRI's, etc.) introduced into daily medical practice tend to precipitate this, because each procedure has a high cost. Then, the demand increases too, since modern citizens are used to more comfort. And finally, this medical progress enables doctors to save more lives, and so the number of times each person needs the medical system is higher.

Therefore, whereas it has been the case for years in American medical colleges, French medical students have begun being taught the cost/benefit of any medical act. For a long time, French people haven't had to be aware of the costs of their health care.

But optimism remains. If everyone makes an effort, we'll appreciate the amazing opportunities of this social system.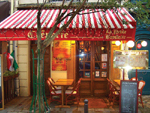 France has more then 35,000 bakeries. Visitors can feast on baguettes, ficelles, flûtes, boules, or longuets.

Facts about France

The French Republic is a unitary semi-presidential republic with strong democratic traditions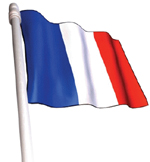 Announcements
International Family and Friends Picnic, 12:30 to 4 p.m., Sunday, May 10, Mount Pleasant Palmetto Islands County Park. Cost is $1, which is the entrance into the park.

For information, contact Rebeca Mueller, director of international programs, at 792-2156 or e-mail Mueller at muellemr@musc.edu.

Visit http://www.musc.edu/international.

Clinician's corner
An 80-year-old patient presents with the following EKG features: rotation of the heart's electrical axis by at least 180º; prolonged QT-interval LQTS; and preceded by long and short RR-intervals.

What would be the most likely diagnosis?
A. Endocarditis
B. MI [myocardial infarction]
C. Torsades de pointes
D. Wolff Parkinson White syndrome

The correct answer is C. Diagnosis of torsades de pointes or twisting of pointes can be made. The ECG reading in "torsades" demonstrates a rapid, polymorphic ventricular tachycardia with a characteristic twist of the QRS complex around the isoelectric baseline. It is also associated with a fall in arterial blood pressure, which can produce fainting. Although torsades de pointes is a rare ventricular arrhythmia, it can degenerate into ventricular fibrillation, which will lead to sudden death in the absence of medical intervention.

It was first described by Francois Dessertenne, French physician. He first described this special type of ventricular tachycardia in 1966 known as torsades de pointes in an 80-year-old lady.





Friday, April 24, 2009