by Melissa Lacas
Public Relations
The Office of Student Programs honored outstanding student leaders and community volunteers during the second annual MUSC Student Leadership and Awards Banquet held April 15. The awards were part of the MUSC Gives Back Awards and Charles Banov, M.D., Humanitarian Award initiatives.

The Charles Banov, M.D. Humanitarian Award was presented to fourth-year College of Medicine student Ian Kane. This award recognizes an MUSC student who has made a significant contribution locally or abroad by volunteering to achieve unmet community needs.

"In addition to being a busy fourth year medical student, Ian Kane's generous and abundant spirit of leadership and volunteerism has been an asset to his college, the medical university and the community at large," said Liz Sheridan, Gives Back program director. "The ability to manage well both the demands of medical school and several extracurricular responsibilities at the same time is a challenge he welcomes."

Kane has served as the president and volunteer coordinator of the Students Interested in Pediatrics group and has volunteered for numerous events and organizations including the Charles Webb Center for Children with Disabilities, Windwood Boys Home for young male victims of sexual abuse, Lunch Buddies at MUSC Children's Hospital, and the Special Olympics Mid-Winter games.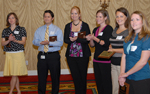 MUSC Gives Back Community Volunteer Award for Student Organizations are Rachel Dasher, from left, Romeo Abangan, Lauren Yarrow, Maggie Pierson, Jachie Epping and Carmen Gacchina.

MUSC Gives Back awards
Community Volunteer Award for Student Organizations recognizes student organizations or groups from each of the six colleges and one universitywide student organization that have made exceptional voluntary contributions within the community.

College of Graduate Studies

Graduate Student Association:

This group's volunteers have served for the Hope Lodge Cancer Patients, Science Fair Judges, Beach River Sweep and created the MUSC GROWS program, which introduces middle school students to careers in scientific research.
Individual Award:

Carmen Gacchina logged 33.5 hours with her work for the American Cancer Society, Hope Lodge, GROWS, annual holiday tree lighting, Black History Month community events, and the health fair at Fraser Elementary.
College of Health Professions

Doctor of Physical Therapy Class of 2009:

This class volunteered at the Annual ALS HOPE Race and raised $35,000 for South Carolina.
Individual Award:

Mason Hicks volunteered 220 hours by participating in MUSC Cares Clinic, Charleston Police Department as a program developer, and conducted CPR and AED classes.
College of Medicine

Student Psychiatry Interest Group:

Aimed at educating teens on substance abuse, depression and suicide, this group first piloted their Brain-Mental Health Outreach Program for high school students at Wando High School. Recent funding from the American College of Neuro-psychopharmacology will enable the program to expand to Burke High and St. John's High schools.
Individual Award:

Julie Robinson contributed 410 hours of volunteer work for the Sexual Assault Forensic Examinations and the Sugar-Free Halloween Carnival.
College of Pharmacy

Kappa Psi Pharmaceutical Fraternity:

This all-male student group raised money to aid the Lowcountry Food Bank, taught medicine safety to school age children, shipped boxes of clothing to an alumni stationed in Afghanistan who then distributed the clothing, and maintains a litter control commitment on Bee Street with the Adopt-a-Highway program.
Individual Award:

William Shealy reported 241.25 hours of volunteer work with the Camp Adam Fish Diabetes Summer Camp, community mentoring with group Success, Cannon St. YMCA, Charitable Society of Charleston and the Lowcountry Food Bank.

College of Dental Medicine

Class of 2010:

The class participated in events for breast cancer research, helped diabetic children enjoy a sugar-free Halloween, provided dental care to the people of Quito, Ecuador and gave free mouth guards and oral health care to mentally-challenged children.
Individual Award:

Rachel Dasher logged 131 volunteer hours in support of My Sisters Smile, Give Kids a Smile, a medical mission trip to Quito, Ecuador, Carolina Youth Development Center and Our Lady of Mercy Community Outreach.

College of Nursing

Individual Award:

Lucinda Megginson provided 237 volunteer hours with the General Hospitals and Clinic Nurse Volunteering and Rome Free Clinic.

Universitywide Organization

Crisis Ministries Wednesday Night Clinic:

This organization expanded their operating time to 11 months, which enabled them to provide more care during the summer. A record number of referrals for patients was gained, both with MUSC and private physicians. The clinic is run by more than 50 volunteers from the MUSC community, including students, physicians and pharmacists.


Friday, April 24, 2009