HELP (Healthy Eating and Lifestyle Plan) achieved repeat success for the registered dietitian program and for the 51 individuals who collectively lost 76 pounds and 18.9 percent body fat in six weeks.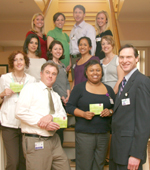 MUSC President Dr. Ray Greenberg, right, congratulates HELP winners Jen Franks (front row from left), Andrew Harmon and Angel Payton-Harmon. Dietetic interns are Shani Friedman (middle row from left), Tiffany Ricci, Jasmine Bautista and Kelsey Grobbel. Back row from left are Lindsey Westbrook, Colleen Grandis, Kris Sollid and Alison Church.

The dietetic internship and clinical nutrition staff extended appreciation to all of the employees who participated in the program this year.

The program is a point-based competition that rewards participants with points for adopting healthy lifestyle habits. Points are awarded for attending educational weekly classes, keeping a food diary and exercise log, losing excess weight, and decreasing body fat percentage. Participants could also earn points for completing a post-quiz and an exit survey.

The top three winners received cash prizes, $100 for first place, $75 for second place and $50 for third place.

This year's winners: q Angel Payton-Harmon, OPAC social work case manager. She lost 8.2 pounds and had a 1.6 percent decrease in body fat and also won the grand prize. q Jen Franks, a pediatric dietitian took second place with a weight loss of 5.2 pounds and a 2.3 percent decrease in body fat. q Andrew Harmon, mental health case manager at the Ralph H. Johnson VA Medical Center, came in third with a total weight loss of 3.6 pounds and a 3.7 percent decrease in body fat.

MUSC President Ray Greenberg, M.D., Ph.D., congratulated the HELP winners for their hard work, and thanked the dietetic interns for hosting the event.




Friday, April 3, 2009