by Megan Fink
Public Relations
The U. S. Navy core values of honor, courage and commitment are embedded not only in the professional life of William Ruppel Jr., but are evident in his scholastic and personal endeavors.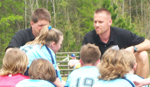 CHP graduate Will Ruppel strategizes with his young players during a soccer game. When not studying, Ruppel coaches his children's soccer teams.

The College of Health Professions (CHP) Master of Health Administration (MHA) student pursued his advanced education thanks to a special program offered by the Navy, for which Ruppel serves as a nuclear submarine mechanic.

It was while on the Navy's submarine emergency medical assistance team that Ruppel first became interested in medicine and the health care field. Though Ruppel remains on active duty, he was granted permission to study health administration for the past two years as a full-time student.

"It's not every day the Navy sends someone for two years to get their master's," said Ruppel. "However, the Navy's big on education."

After graduation, Ruppel and his family will move to Beaufort where he has orders to work at the naval hospital. "I like the Navy," said Ruppel. "They've been really good to me for the last 11 years. You go where they need you and do what they need you to do."

Ruppel has excelled in the MHA program and plans to utilize his skills in finance and analyzing data in future career opportunities. He expressed appreciation for his internship at Ralph H. Johnson VA Medical Center and his MHA classes, especially health care delivery, which was taught by Karen Wager, DBA, Health Administration and Policy.

"Finding that balance is the key to success," Ruppel said. "I get up a lot of mornings at 4:30 a.m. to study, because life is happening. When I get home, I don't have the luxury of getting on the computer and working on a paper. I've been gone all day, and my wife has had a full day. I don't expect her to continue once I'm home."

In addition to fulfilling his commitments to the Navy and juggling a full course load in the MHA Residential Program, Ruppel also is active in the lives of his wife Jennie and their four children. The Ladson resident enjoys coaching and playing soccer, spending time on Isle of Palms with his family and cheering for his wife as she competes in Ironman Triathlons.

"My wife's amazing, and my family is my passion," said Ruppel.

Long term goals include leading the administration for a military hospital and eventually heading a hospital as its commanding officer. Ruppel is extremely proud of the Navy's mission and plans to serve many more years.

Name three things that helped you make it to graduation?
My wife, children, God and the Navy. (I felt four needed to be mentioned).

Words of advice for fellow students?
Don't procrastinate. Life is much easier when you work ahead.

What is your biggest challenge after graduation?
Adapting to a new position in a new area.






Friday, May 15, 2009