by Cindy Abole
Public Relations
The fourth and final years of medical school are known as defining, exciting periods for students as they decide on a medical specialty, finish any medical school requirements, complete Step 2 of the medical boards and conduct residency interviews.

This can be particularly stressful for couples who seek to match in the same institution.

Less than two months ago, 129 medical school seniors went through MUSC's version of Match Day on March 19. Students gathered among friends and family to formally learn of their collective fates in medical internship and residency. Included in this group were seven couples—the most ever at MUSC participating in the National Resident Matching Program's (NRMP) couples match.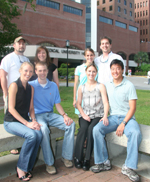 Front from left: Drs. Jennifer and Andrew Jamison; Drs. Angela and Young Choi. Back row from left: Drs. James Gambrell and Cheryl Bradley; Drs. Amanda Wrenn and Angelo Del Re.

Match Day is part of an annual ritual shared by about 16,000 graduating medical students across the country. It occurs on the third Thursday in March and is described as a tough, tumultuous time that results in the dramatic culmination of years devoted to education and preparation.

The pressure building up to Match Day is described as a complicated, exhaustive, expensive and challenging experience. The Match Day results can either make a young doctor's career or challenge and possibly break relationships.

NRMP's couples match program is an option open to fourth-year medical students who wish to be matched as a couple. Both individuals submit pairs of choices on their primary rank order lists. Applicants participating in the couples match can be married couples, significant others, siblings and friends.

"Throughout medical school, everyone knows that the match process exists. It's not until the start of fourth year that medical students begin considering it; although couples tend to plan early about the option to enter the couples match. Entering as a couple changes the strategy a little as they prepare to rank programs," said Cheryl Bradley, M.D., who submitted as a couples match with fellow graduate James Gambrell, M.D.

In preparation for match, students choose a field of medicine to do their post medical school education and training. During the fall semester of their senior year, they complete applications with NMRP and visit hospitals and residency programs. By Feb. 25, candidates submit their rank order list or "wish list" of residency choices to the Electronic Residency Application Service. Often, their list is based on residency visits, interviews and decisions. Similarly, residency programs submit their own list of desired candidates. NMRP's national database runs an algorithm that matches the student's ranking with a residency program's preference at cities and hospitals across the country.

Once an applicant is matched to a residency program he or she is bound to the final results by NRMP's Match Participation Agreement. Failure to go where the match sends them is a violation of the match agreement and has strict penalties.

"The College of Medicine's Dean's Office has worked hard to assist and coach students into choosing wisely with their residency options and rank order lists," said Jeffrey G. Wong, M.D., senior associate dean for medical education, College of Medicine. "We tell students to apply widely and shoot for the stars when it comes to applying to residencies. Programs draw up their own list in a similar way. If everyone completes their lists in this manner, everyone's results would be maximized."

When couples enter the Match process, their goal is to match into the most preferred pair of programs at the same institution where each partner has been offered a position. In essence, both partners of a couple pair the same residency numbers on their primary rank order lists. For example, a couple visiting the same residency program can save money by traveling and interviewing together. That was the situation with Cheryl and James as well as Angelo Del Re, M.D., and fiancée Amanda Wrenn, M.D., who received her medical degree earlier from the University of South Carolina. Some residency programs may be "couples-friendly" and look at the couples match as a "two-for-one" deal, especially when the match involves strong candidates who apply to a large, less competitive residency such as internal medicine, pediatrics or family medicine.

"We were blessed to not experience any major issues going through the Match process," said Angelo who, along with Amanda, will join Cheryl and James for their residency years at Eastern Virginia Medical School in Norfolk, Va. "We took time off to travel and interview together and constantly stayed in touch with the residency program directors we met throughout the process."

But the process also can be complicated for others. With one candidate or both students entering the couples match and vying for a very competitive medical specialty, the process can be especially challenging. Jennifer Jamison, M.D., and Andrew Jamison, M.D., interviewed at 12 residency programs in 10 different states seeking residency slots that would meet each other's professional needs and help keep them together.

Jennifer searched for family medicine programs, while Andrew interviewed at more competitive dermatology residencies throughout the Southeast. Some specialty residencies also may require a candidate to complete a one-year preliminary training program prior to the start of their primary residency specialty training.

"Andrew and I were challenged with several different scenarios, which included 28 possibilities for us with Andrew also matching for his preliminary year in addition to his categorical spot," said Jennifer. By the Monday prior to Match Day, they received word that they successfully matched as a couple but still worried about details concerning Andrew's preliminary year. They were glad to learn they matched to residencies at Texas A&M Health Science Center at Scott & White in Temple.

That same anxiety challenged newlyweds Angela Choi, M.D., and Young Choi, M.D. Angela felt limited in seeking compatible residencies for herself in OB/GYN and Young in anesthesia. The Chois considered programs based on their own strengths as well as each program's competitiveness. They looked at multiple programs in the Chapel Hill/Durham area and in Pittsburgh. Ultimately, they matched at MUSC.

"It's great that a couples match is now an option in the match process as it is a relatively new program that allows families or friends to remain together," said Angela. "It just requires more time, preparation and organization."

This stressful, dynamic process also can challenge the strongest marriages or often strains relationships.

"I learned quickly that the process is not all about one person," Jennifer said. She and Andrew have been married since August 2007. "It also relates to the foundation of marriage and placing your partner's interests and well-being before one's own. It's the same give-and-take concept that defines a marriage. Neither partner wants an unhappy spouse. We just learned to work together and communicate in an honest and open way."

"It's been well worth it for us, even with the extra stress," said Cheryl. "Not only did James and I stay together throughout this process, but we're stronger now as a couple having been through it together. I have no complaints."

Like every good system, there's always room for improvement. When asked how these couples would recommend improvements to the traditional or couples match of the system, the new doctors were very positive.

"Start the process early," said James. "Students should take the initiative and responsibility to get information and initiate the process on their own. For couples, it's also important that they be honest with themselves and ask the right questions and tap resources like other residents, the school's own residency program coordinators, faculty and the dean's office staff."

Others reminded their peers about the importance of preparation and staying organized.

"Take advantage of your down time," Jennifer said, about the period after a medical student submits their rank-order list and Match Day in March. "Our work is done. You can't worry, plan or pack until Match Day anyway. Then, the reality suddenly hits you once you've confirmed the results. After that it seems like the whole world drops into your lap and you're busy again planning a move, finding housing, confirming your salary and what insurance you need, etc. Take advantage of that sweet, quiet time."

"This is really an exciting time for new physicians, especially in today's struggling economy," Wong said. "I don't know of any other profession where students who have completed their medical education are guaranteed a job. Like other professionals, they learn to work with a boss and coworkers and have responsibilities. They also have that added benefit of walking into an already established support system composed of other residents and colleagues who form an extended, supportive family that's there when they need it."








Friday, May 15, 2009