by Mary Helen Yarborough
Public Relations
Despite war hardships and diplomatic red tape, Youssef Zeidan maintained his focus on completing his MD/PhD training at MUSC.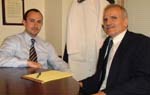 Dr. Youssef Zeidan, left, and mentor Dr. Yusuf Hannun.

Zeidan's stellar reputation as a student and colleague also has earned him the Distinguished Graduate Student Award in the College of Graduate Studies (CGS) for 2009.

"Each one of those challenges has taught me to appreciate the opportunities I received, and stay determined to achieve my goals," said Zeidan, who was born in Beirut, Lebanon, along with an identical twin, now a pharmacist in Miami's Children's Hospital.

Zeidan came to MUSC after learning about the unique exchange program between MUSC and the American University of Beirut (AUB) during his second year of medical school there.

"I have always enjoyed doing research, however research resources are rare in the Middle East," said Zeidan, who was raised in what became known as the war generation. "I actually once wanted to become an engineer. I still have my acceptance letter to an engineering program. But I have appreciated the people aspect of medicine, particularly growing up amid war. I feel blessed for choosing medicine."

Meanwhile, Zeidan has earned the respect of his professors and other institutional leaders.

"One has to ask oneself how does one person accomplish so much so well, with the same amount of time available to all of us. Youssef embodies those attributes that we seek in both a scientist and caring physician," said CGS Dean Perry Halushka, M.D., Ph.D.

Halushka called Zeidan a credit to the Medical Scientist Training Program and the MUSC/AUB collaborative program. On May 15, he earned his M.D., having earned his Doctor of Philosophy in molecular and cellular biology and pathobiology in 2007.

Zeidan's mentor, Distinguished University Professor Yusuf Hannun, M.D., calls Zeidan an extraordinary individual—a brilliant medical scientist and a true humanitarian.

"Youssef is easily one of the most outstanding students I have come across both in my laboratory as well in my overall experience with graduate and medical students," said Hannun, the Department of Biochemistry and Molecular Biology chair. "And that includes students I trained and/or worked with at MUSC and at Duke University."

Zeidan came to Hannun's laboratory with modest research experience, having performed a few lab rotations. "But he demonstrated an intense curiosity and desire to learn and achieve; characteristics I have seldom seen in other students," Hannun said.

In a short period of time, Zeidan acquired essential techniques that allowed him to pursue his research project in novel and exciting directions, Hannun noted.

"Youssef has an outstanding record of accomplishments," explained Hannun. His studies have earned him 19 publications: six first author publications, two expert review articles; two in the Journal of Biological Chemistry, one in the Federation of American Societies for Experimental Biology Journal and one in the Journal of Cell Biology, which was tagged a 'must read' by Faculty of 1000 Biology (an international group that recognizes major scientific advances), Hannun said.

"Zeidan also has written authoritative reviews on acid sphingomyelinase and on bioactive sphingolipids," Hannun said. "Moreover, Youssef spearheaded the development of a competitive grant application which was successful from the Cystic Fibrosis Research Inc. titled 'Loss of Acid Sphingomyelinase Induction by Pseudomonas Aeruginosa in Cystic Fibrosis.' Youssef did most of the work on this grant, which is totally outside my area of expertise, and he worked closely with Isabel Virella-Lowell (M.D.) in developing this grant."

Zeidan's performance has extended beyond the labs and academic setting by helping others cope in the often harsh realm of society. "Youssef has distinguished himself in his outreach, community service, and humanitarian activities," Hannun said.

Zeidan volunteered in the CARES clinic, and was involved in the Windwoods Farm Home for Children. He also led in efforts to promote awareness for prostate cancer in rural communities, including those in Bamberg county.

For this, he was awarded the Gold Humanism Honor Society Award in 2008 for excellence in clinical care, compassion and leadership. He also received the Interprofessional Collaborative Research Award at MUSC.

Zeidan will begin a radiation oncology residency at Stanford University in July.

Friday, May 15, 2009