by Cindy Abole
Public Relations
Sonia Karamchandani, DMD, made a commitment to service early on in her dental career. In her time at MUSC, she's emerged as an effective and impassioned campus and national student leader committed to protecting the rights of dental students and patients.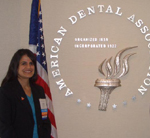 Dr. Sonia Karamchandani served with the American Dental Association's Department of State Government Affairs in Chicago.

Karamchandani is sincere when it comes to advocating for dentists and today's issues affecting the profession. She cares about patients and their inability to obtain proper oral health care. Driving her is an innate desire for involvement and change while possessing the courage to make a difference.

You could say Karamchandani's passion for dentistry is deep-rooted.

The Greer native has been busy since her arrival on MUSC's campus in 2005. For Karamchandani, it all began when she and fellow first-year dental students in her class were registered as members of the American Student Dental Association (ASDA). In less than four years, she's made the most of her student membership by opening doors and educating and motivating students toward action and change.

The summer before her second year of dental school, Karamchandani attended a month-long externship through ASDA at the ADA Department of State Government Affairs in Chicago. There, she was introduced to state government and national health policy legislation relating to dentistry, conducted research and analysis, as well as other projects.

In 2007, she served as an ASDA legislative liaison and lobbied Capitol Hill during National Dental Student Lobby Day in Washington, D.C. She also helped organize the state's first dental student lobby day featuring an MUSC dental student and faculty visit at the South Carolina State House, April 16, 2008. Also in 2008, she was elected National ASDA Legislative Grassroots Network chair and served nine months monitoring national legislation and other political action as it relates to dentistry, oral health care and dental students. She also is serving as a liaison for the American Dental Association's Council of Government Affairs through August and is a member of the American Dental Political Action Committee (ADPAC), which supports dental professionals focused on organized dentistry and the election of candidates who understand the dental profession and are committed to improving the nation's oral health.

"We, as dental students and dentists, should take the initiative to advocate for our profession and oral health. There are many ways to become active in organized dentistry. Whether you make it to your legislator's office or simply send them a letter, every little bit helps," said Karamchandani. "It's all about building relationships."

On Feb. 11, she helped organize the 2009 National Dental Student Lobby Day co-sponsored by the American Dental Education Association and ASDA. During the two-day public policy event, 313 national dental school representatives were briefed on current legislation and learned about lobbying fundamentals. They also met with their state legislators to ask for their support for the National Health Service Corps and Meth Mouth Legislation.

She's initiated student involvement in the South Carolina Dental PAC (SC DenPAC) by inquiring about the creation of a student membership and a student representative in DenPAC Board meetings, which have both been accomplished with the help of the South Carolina Dental Association (SCDA) and DenPAC Board. She feels today's hot button issues worrying dental students are the rising cost of tuition among dwindling state appropriations in the current economy. She's excited about MUSC's collaborative role with the SCDA and other groups in sponsoring the first-ever Lowcountry Dental Access Day this summer to provide free dental care to underserved and unemployed adults.

"Sonia's been a great influence to her fellow dental students," said Ted McGill, DDS, Division of Restorative Dentistry and ASDA faculty advisor. "She's bright, intelligent and progressive. I know how valuable she is to the dental school through her accomplishments and ideas. We need more young women like her in organized dentistry."

An accomplished student, Karamchandani graduated from the University of South Carolina Honor's College in 2005. At MUSC, she was vice president of CDM Class of 2009 and member of the American Association of Women Dentists, Psi Omega Dental Fraternity and recipient of the ASDA Ryan Turner Memorial Scholarship, an award honoring a former dental student and ASDA leader. Working with ASDA, she helped organize education programs for her fellow students, participated in area dental clinics and helped with initiatives promoting oral health care education.

"There's always a need for people to be in the forefront of dentistry to help educate the public and get laws passed," said Peter Kobes, DDS, associate professor of dental medicine. Kobes, a former military dentist, is a proponent of organized dentistry after having seen improvements to dental care for service members and their dependents under military health care reform. "Sonia's demonstrated how a student can successfully manage working in organized dentistry while attending school. She's a wonderful individual and I expect her to continue to be an active leader throughout her dental career," Kobes said.

In sharing advice to fellow dental students, Karamchandani wants each student to make a lifelong commitment to organized dentistry throughout their career. She also challenges them to meet and regularly communicate with their local legislators about issues, and participate in ADPAC or SC DenPAC initiatives.

Following graduation, Karamchandani and fellow dental graduate Christopher Costa, DMD, will attend a one-year Advanced Education in General Dentistry residency at the University of Florida in St. Petersburg. The program will provide advanced clinical and didactic training in all disciplines of general dentistry. Afterwards, she plans to return to South Carolina, open a private practice and care for her patients while remaining an active member of the South Carolina Dental Association and serving the dental community.







Friday, May 15, 2009