Employees of the Month
Heather Ketchabaw, Heart & Vascular Center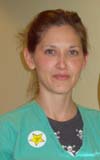 "During my wife's recent surgery, I experienced an embarrassing incident while waiting in the visitor's room. I got up from a chair and walked a short distance before being told my trousers were torn down the back. My wife's attending nurse in Heart & Vascular offered to repair my trousers. She also was very helpful and put us at ease when we checked in at 8:45 a.m. I sincerely appreciate her thoughtfulness for all she did for us!"
—Nominated by Don Smith, husband of a patient


Estelle Horlback, Environmental Services


"A young lady from housekeeping assisted me when I fell down on my way to an appointment in Rutledge Tower. She told me to wait until she got a wheelchair. She returned with the wheelchair and took me to the bathroom because my nose was bleeding. She cleaned me up and then took me to my appointment. I just wanted you to know how much I appreciate her kindness and the time she took to help me. May God bless her and her family. She needs to be recognized for going the "extra mile."
—Nominated by Ruth Naygaurd, patient

Mark Fennessy, Central Energy Plant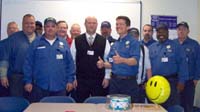 Mark Fennessy gives two thumbs up when presented with a cake and balloon. With Fennessy are coworkers from the Central Energy Plant.

On the morning of March 23, a patient at the Veterans Hospital pulled over by the Central Energy Plant (CEP) with a flat tire. She was trying to find a gas station to get her tire fixed. An MUSC employee in the CEP told her there was air in the plant. He then went to his vehicle, got a tire repair kit and fixed her tire. I feel this is an example of doing that little something extra.
—Nominated by Charlie Pace, Central Energy Plant


---

Daisy Award Winner
Margarita Konikova


"She was so sweet and kind. I was here alone after my surgery and the care that she gave me was like the care a mother gives her child. If I called her to say that I was in pain she was there. I had problems with my IV's and she helped to make it better. She did not stop until I was much better. There are so many others who were nice and helpful, but her help came from the heart."
—Submitted by Toni Gyaase, patient



---
'From One of Our Own'
Dear friends,
I'm sure many of you know by now that my mother had brain surgery here last week and I'm taking off some time from work to help her recover. Just wanted to let you all know that our experience here at MUSC on the patient side of the bed makes me very proud to be an employee.

I came into my mother's apartment a week ago Sunday with my mentally retarded brother in tow. We'd been to church and were expecting to eat dinner with Momma, but no dinner was ready and my mother had a blank look on her face and couldn't remember anything about the last day's events. I called 1 West and told the charge nurse I was bringing her in for a BAT evaluation. Within minutes of arrival, we were in a room, labs had been drawn, an IV started, EKG completed and Dr. Jauch had done a neuro exam. While he spoke with me, she was taken for a CT scan. Minutes later, he showed me the scan which was remarkable for a ping-pong ball-sized tumor on her right temporal lobe. Dr. Varma, the neurosurgeon, came in next to speak with us about removing the meningioma and we agreed to schedule it for the next week. We were transferred to the STICU for starting IV Keppra and Decadron and monitoring overnight.

Early Thursday morning, we went to the neurointerventional radiology department where Dr. Turk performed an embolization. She was then transferred to the operating room where Dr. Varma removed the tumor. At 6 p.m., she was transferred to the PACU, where she remained for 24 hours since there were no neuro beds available. Finally we got a bed on 9 West and stayed there for three days until she felt well enough to go home.

I'm telling all these details because I want you to know that in a week's time, we had the grand tour of the hospital and I am humbled at the excellent care we received everywhere, from all of the doctors and nurses, the techs, dietary, environmental services, pharmacists, everyone. It was especially gratifying to be cared for by my wonderful colleagues, Melissa Cross in STICU, Perette and Meg in PACU and Ramona Smith on the 9th floor. I was particularly impressed with the kindness and professionalism of the neurosurgery team.

I'll be glad to be back to work soon, but I wanted to thank all of you for your love and support. It feels fabulous to work where everyone is focused on giving the best of care to our patients. You never know when it could be one of your own.

Much love to you all,
Suzie (Susan Ravenel, MICU)

---

Q2 Standard: Maintain a safe and secure work environment.
Clean up trash and debris
Wash hands before patient contact


Friday, May 1, 2009