Physician of the Month
Mark Feldman, M.D., Surgery resident

"I would like to acknowledge Dr. Mark Feldman for exemplary, phenomenal teamwork on March 6. My patient in MICU had no IV access despite multiple attempts by both nurses and anesthesia. The medicine resident was unable to successfully place a central line and immediately called the surgical team for assistance. Dr. Feldman was here in minutes and placed a central line quickly and without difficulty. If it were not for Dr. Feldman this patient may have had a completely different outcome. We here in the MICU are immensely grateful.
—Submitted by Elizabeth Bunch

Get Well Network
The following comments were sent directly from patients or family members in the hospital through the Get Well Network, the interactive in-room television system.

"Donna Pauley was one of my husband's nurses on 8W, Room 877. I have never had a better experience with a nurse. She went beyond the call of duty and was very helpful to me as we learned of my husband's cancer diagnosis. I told her I wanted to take her with us to ART when we transferred. We also had a CA by the first name of Alison. She was a great people person and treated my husband very well.
—Submitted by Angela Pittard, wife of Paul W. Pittard Jr.

"We thoroughly enjoyed our stay with MUSC! Everyone from the labor and delivery including Becky, Olivia, the entire team of nurses and physicians, and especially Dr. (Laura) Goetzl and Dr. Ashley Ryan, who Lila said were especially helpful. We also want to recognize the postpardum team of doctors, nurses (Tina and Liz) and techs (Monica and Kelly). Special thanks to Jeanne B., the lactation consultant, for her encouraging words. One big thanks to Dr. Erin Swanson for going out of her way to be the one who performed the circumcision. Everyone made our experience having our first child very memorable. We will be back!
—Submitted by Josh, Lila, and, little Wesley Dodson
Patient Satisfaction Banner Award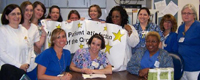 Labor & Delivery were recognized for the Support Banner Award.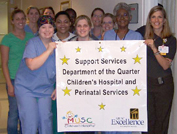 MUSC Children's Hospital and Perinatal Services 5E is this quarter's banner award winner, ranking in the 90th percentile.

Daisy Award Winner
Ali Linnemann, R.N., PCICU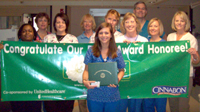 "My son is 3 months old and had a ventricular septal defect. He had surgery Friday morning and I was terrified as any mother would be. Ali watched my son so closely and was so good to me and my husband! There is no way I could ever thank Ali for the kindness and professionalism she showed towards us. I was hoping that maybe this would help show her how much we love her and how much she helped us through the roughest and hardest time in our lives. Everyone says this is a common defect; it is not so common when it is your child and Ali understood this! Please at least let Ali know that we tried to nominate her and that we will never forget the kindness and compassion she showed. Thank you Ali, love to you from the Devlin-Hamilton family. P.J. sends his love, from the bottom of his healthy heart!"

Q2 Standard: Maintain a safe and secure work environment.

Friday, Aug. 14, 2009