by Mary Helen Yarborough
Public Relations
The region evoked comparisons to Charleston: warm, friendly and polished. Beirut, Lebanon also is the home to one of the world's leading medical schools at the American University of Beirut (AUB), which has trained some of the brightest medical students from eastern Mediterranean countries.

For the past seven years, the best of the top 10 percent of medical students attending the AUB medical school were selected to participate in the Medical Scientist Training Program (MSTP) under the umbrella of MUSC's College of Graduate Studies (CGS) and College of Medicine. The program blossomed from seeds planted by CGS Dean Perry Halushka, M.D., Ph.D., when he visited AUB in 2002. His visit uncovered a treasure trove of intellectual talent that could enrich MUSC's international student diversity and help return academic physician-scientists to AUB and Lebanon.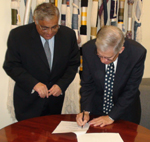 Dr. Perry Halushka signs the agreement between MUSC and AUB. Dr. Nadim Cortas also signed the agrement.

"I remember walking into his office; and the first time I met Dean Cortas, I knew it was going to be a positive experience," said Halushka, sitting in his office visiting with a special colleague, Nadim Cortas, M.D., AUB's vice president for medical affairs and dean of the faculty of medicine and medical center.

Cortas came to Charleston to participate in graduation ceremonies in which two of the AUB medical students graduated having fulfilled all the requirements for the medical and doctoral degrees. These students completed their pre-medical studies and the first two years of medical scholl at AUB.

"Our goal has been to build upon the critical mass of intellectual motivation to grow our research infrastructure and rebuild our MD/PhD program as AUB medical school has been rebuilt following 20 years of civil war," Cortas said. "When Dr. Halushka came to Beirut, he liked the idea of forming an academic partnership, and things moved fairly quickly from there."

On April 1, 2003, an agreement was signed between the two universities that focused on recruiting the best medical scientists at AUB to MUSC to become MD/PhDs.

Halushka's interest in developing a relationship between MUSC and AUB was based on expanding the intellectual base from a more varied set of social experiences.

"I believe that by recruiting the best possible medical students with a desire to conduct research and a diverse background enriches our training program and the environment in general," Halushka said. Halushka visited AUB at the end of April where he signed the agreement for another five years. He was an invited speaker at the annual Middle East Medical Assembly that is hosted by AUB's Faculty of Medicine and its alumni and attracts 1,300 to 1,500 participants from Lebanon and the Middle East. He also received the Shield of the Faculty of Medicine at AUB in appreciation for his leadership and devotion to the AUB-MUSC MSTP.

Since 2003, AUB has sent seven students to MUSC.

"These AUB students have been so extraordinary that two of the three graduates were selected as our Distinguished Graduate Student of the Year," Halushka noted.

After MUSC, AUB-MUSC-trained medical scientists will intern at some of America's top hospitals where they will continue both their medical and research training.

To enhance MUSC students' experiences, Halushka said that Cortas has had discussions with Jeff Wong, M.D., senior associate dean for medical education, on a program to encourage students to take an elective month to study at AUB.

"AUB is a very 'Americanized' system," Halushka said. "It isn't what people would suspect, considering that it is in the Middle East. In terms of the quality of education and clinical experience, it's as good as many in the United States." Many of the faculty have trained in the country's most prestigious universities.

East region, continuously since it was founded in 1867. AUB Faculty of Medicine has graduated more than 4,150 physicians.

Diversity facts
The College of Graduate Studies currently has 57 MSTP students with 6 AUB students, 1 student from Afghanistan, and 7 underrepresented minorities. MUSC's nationally-acclaimed and highly competitive MSTP program has had three underrepresented minority graduates.

About 80 percent of AUB's fourth-year medical school students spend two to three months in electives at top medical schools in the USA. AUB also has agreements with other top medical colleges, including:

St. Jude Children's Research Hospital (since 2000)
Columbia University College of Physicians and Surgeons for student elective exchange (since 2002)
University of George Washington School of Medicine in Washington, D.C. (since 2004)



Friday, May 29, 2009