by Mary Helen Yarborough
Public Relations
No flip-flops and bathing suits, but lots of insect repellant, patience and dedication are what MUSC medical missionaries will pack on a May mission in Masindi, Uganda.

During the second mission in as many months, more than 70 medical students, physicians, nurses and health professionals (i.e. physical therapists) will endure the African heat and rough terrain to treat more than 5,000 villagers.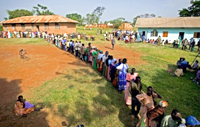 On March 6 Palmetto Medical Initiative sent its first mission team to Masindi, Uganda with the intention of treating as many people as possible during their two week stay.

In March, 25 MUSC students, including Will Carroll, Monique Huynh, and Brian Blaker; participated in the Palmetto Medical Initiative (PMI) through which 1,100 villagers received treatment for various diseases and injuries in four days. Common types of conditions and diseases treated have included malaria, trachoma (eye infection), typhoid fever, hypertension, diarrhea, and head injuries.

Part of the Medical Campus Outreach conducted by the East Cooper Baptist Church in Mount Pleasant, PMI was founded by Ed O'Bryan, M.D., Veterans Administration staff physician and clinical instructor in MUSC's Department of Medicine.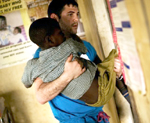 College of Medicine student Brian Blaker carries a 6-year-old boy he helped care for.

Participants have included MUSC students and local medical practitioners. Soon students from the University of South Carolina are expected to participate, according to Marianne Heis, a PMI spokesperson.

PMI mission participants work from a small, one-story building under an agreement with the Ugandan health ministry. PMI has a five-year commitment through the church there to provide continued care through the Uganda mission.

More information on PMI and journals of students' experiences in Uganda can be obtained at http://www.palmettomedical.org.


Friday, May 8, 2009