Heart patients who exercise to help recover from surgery and former patients who seek to maintain better health have access to a bigger, better MUSC Cardiac Rehabilitation (CR) facility.

Previously located in the Gazes Cardiac Research Institute, the program was moved to its new home in April, second level of the Bee Street parking garage (Bee and Courtenay streets). The new facility is nearly triple the space previously used, and features a large cardio area, adult locker rooms with showers, exam rooms, and meeting space. Workout equipment includes recumbent cycling machines, elliptical trainers, treadmills, stationary bikes, free weights, balance balls, and resistance bands. A new telemetry system also allows staff to monitor up to 12 patients at once during workouts.

Patients can benefit from programs designed to help meet individual patient needs. Patients typically participate in six- to -12-week programs, complete an entry-level stress test, and work with a cardiac rehab team that includes three rehab nurses, an exercise physiologist, nutritionist, counselor, rehab physician and other specialists.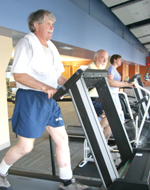 Frank Peters works out on the treadmill at the Cardiac Rehabilitation facility. MUSC Cardiac Rehab program was nationally certified in 2003 by the American Association of Cardiovascular and Pulmonary Rehabilitation.

For Frank Peters, the regular exercise and fitness program has equated to an added level of life-saving therapy. In 2006, Peters was diagnosed and treated for hypercholesterolemia (high cholesterol). He changed his diet, better managed his medications, and was referred to MUSC Cardiac Rehab as a primary patient for supervised exercise. Three years later, Peters continues his weekly exercise regimen through the CR's maintenance program. He also has made friends and enjoyed the camaraderie and support of the cardiac rehab team along with other patients.

"Cardiac rehab provides a firm foundation for any recovering patient who needs a transition to exercise and physical activity under medical supervision and a professionally-staffed environment," said Mark Clair, an exercise physiologist and program director.

The new facility provides rehabilitation expertise for South Carolina's unique full-service heart and vascular center in Ashley River Tower. The program supports a variety of patients diagnosed with heart disease and other heart conditions, including patients with congestive heart failure, stable angina, valve surgery/mitral valve plasty, heart transplant and surgery patients. Because of its advanced protocol, the facility is approved to accept patients recovering from gastric bypass surgery, peripheral vascular disease and pulmonary rehab patients.


Friday, June 12, 2009