In science, discoveries are often launched by new tools, including research devices and equipment that are not commercially available. The MUSC Research Machine Shop Facility operates as a university research resource under the Office of the Associate Provost for Research. It also offers services to other research organizations in the area.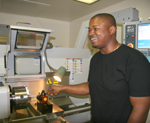 Machinist Johnny Mole demonstrates the new machine capabilities on scrap metal.

The shop provides design and construction of new devices and research equipment, as well as modification and repair of commercially available equipment. Recently the shop added a computer numerical control (CNC) turning center, which was made possible by major funding by MUSC's Cardiovascular Proteomics Center.

The shop previously had a CNC milling machine, but the addition extends computer-controlled machining capabilities to include complex round shapes.

"The ability to modify equipment and construct new equipment is essential for a cutting-edge research organization," said Dan Knapp, Ph.D., facility director. "It is often the case that truly frontier research can't be pursued with existing tools."

The shop's efforts are split between work funded by grants that partially support the shop, and other jobs charged on an hourly basis. The shop facility was originally established through the Clemson-MUSC Bioengineering Program, and was extended to offer services to the entire local research community.

Investigators needing shop services are invited to contact machinist Johnny Mole at 792-9077, or facility director Dan Knapp at 792-5830.

More information, as well as a work request form, is available at http://www.musc.edu/pharm/machine.html.


Friday, June 12, 2009