Every year employees are asked to participate in the annual employee partnership survey to share their ideas on what works well and what could be improved.

"MUSC medical center is focused on being the best place to work, the best place to receive care, and the best place to practice medicine and teach," said Stuart Smith, vice president for clinical operations and executive director, MUSC medical center.

"Fairness of performance reviews" and "evaluation helped improved performance" were raised as areas that employees felt needed some improvement on past partnership surveys. Final 2009 survey results are not yet available. Employees' concerns were heard. In response, the medical center is implementing a new, online, performance management system, SuccessFactors, in July. The university and University Medical Associates (UMA) also have plans to implement SuccessFactors at a later date.



SuccessFactors will replace the current manual paper system for managing employee performance. It does not, however, replace the one-on-one conversations that must occur between the employee and manager on an ongoing basis. The system will reduce the amount of paperwork required, freeing up more time for managers to meet with their employees.

SuccessFactors will also:

Increase the fairness and consistency of performance reviews—everyone will be reviewed at the same time, using the same format, in one system.


Create a strong connection between MUSC goals, leader and employee goals.

Give MUSC the ability to clearly tell the difference between low and high performing employees, so high-performing employees can be rewarded.

Reinforce the importance of MUSC Standards of Behavior—all employees will be evaluated on the same standards.

In addition, all employees will now have pillar goals. Leaders have carried pillar goals for the past three years, but this will be a change for those employees who do not supervise others. These employees will carry two pillar goals. Pillar goal choices will be simple and consistent; and employee goals will be linked to those of managers or supervisors. Employee goals will fall under three pillars: service, quality and finance. There will be some exceptions, but the focus is to have the employee goal be the same as or strongly connected to the manager goal.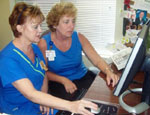 Medical surgical clinics nurse manager Judi Bucknam, right, reviews performance goals with university internal medicine clinical care coordinator Beth Fleming.

Once SuccessFactors is rolled out, employees will be able to access their position description (PD) round the clock, even from home, as a link to the tool will be part of MyRecords. Employees will also be able to electronically make notes about key actions completed, goals reached, even compliments received, throughout the year. The system will make it easier for the medical center to respond to Joint Commission survey questions during a survey, since we will not have to track down as many pieces of paper.

All employees are encouraged to visit the newly launched SuccessFactors Web site—https://www.musc.edu/medcenter/SuccessFactors/index.html to learn more. The link is available from the MUHA Human Resources site. Managers, supervisors and their designated support staff must attend training. Training began June 15. Log into CATTS (http://www.musc.edu/catts) to register. Employees who do not supervise other employees are not required to attend training, but are encouraged to attend a drop-in session.

Drop-in session will be held throughout the summer. Visit the SuccessFactors Web site and click on 'training' for times, dates and locations. A timeline of upcoming dates is below:

June 15 – July 10: Training will be held for leaders and support staff.

June 15 – Aug. 31: Leaders and/or their designated administrative support staff must load PD's for all employees into SuccessFactors. Leaders must also load pillar goals for themselves to cascade to their direct reports.

July 13 – July 31: Drop-in sessions for those loading PD's into system.
Aug. 10 – Aug. 31 : Drop-in sessions for employees.
Aug. 31: Deadline for managers to complete a 2009 review for every employee (except those hired on or after April 1, 2009).
Aug. 31: 2010 planning stage acknowledgement forms.

SuccessFactors will not manage performance— employees are responsible for managing their own performance. The new system should, however, increase the fairness of the process, so that it supports every employee's development and ensures that MUSC Medical Center is a great place to work.



Friday, June 19, 2009