Every day each of us has the tremendous opportunity to make a stressful situation better for a patient and his or her family. Speaking to an individual in the hallway, asking them if they need help, relieves their stress and is something we all have an opportunity to do.

Our "must haves" AIDET, hourly rounding and follow up discharge phone calls are wonderful tools that help our patients and families feel comfortable, ease their fears and be assured that we will do whatever it takes to provide excellent care.

We can all make a difference by providing excellent service and patient care. Never underestimate the difference you can make!

"You Make a Difference" e-mails will feature stories of excellent service and care as a reminder of why we are in the health care business—to serve a purpose, have the opportunity for worthwhile work and make a difference. This is an opportunity for us all to be proud of the excellent service and care that is being delivered by you at MUSC.
--Stuart Smith, Executive Director

Employees of the Month
Latasha Ellis, Hospital Patient Accounting


"Tasha was leaving the Hospital Patient Accounting building when she noticed a pregnant woman waiting on the curb. Tasha asked the woman if she needed help. It turned out the lady was in labor and waiting for a cab to take her to the main hospital. Tasha decided to step in and drive the woman to the hospital herself. She is a shining example of MUSC Excellence!"
--Nominated by Sarah Ortiz and Tanya Scott



Ronnie McKinnie, Safety & Security
"I am an MUSC patient from Greenville. When my wife returned home, she took my wallet, so I had no money for a newspaper, etc. Mr. McKinnie gave me $5 out of his own pocket so I could buy a paper and a bottle of water. His kindness and compassion is something you should be very proud of."
--Nominated by Tim Jones, patient


Kevin Satterfield, Clinical Neurophysiology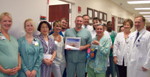 Kevin Satterfield and his coworkers
"I would like to nominate Kevin Satterfield for going the extra mile in delivering a walking cane to a 92-year-old patient who lives in a nursing home across town. The patient had been unable to make arrangements to retrieve the cane and when I asked Kevin (who also lives on that side of town) if he would mind returning it to the patient, he immediately said yes."
--Nominated by Cyndy McConnell

MUSC saved our sweet girl
by Angela Barwick
My granddaughter, Claire Barwick, was brought in by helicopter May 1. She was cared for by Linette and Christine in PICU and then moved to 7A. There she was taken care of by registered nurses Katelyn, Brittany and Dora, as well as Shanika and Marquita. These women are nothing short of angels.

Our little girl was scared and in a great deal of pain. They went above and beyond to make her comfortable and help ease her fears. They were also caring and kind to me, her mother and her aunt who stayed with her.

Thank God for wonderful nurses like these ladies. They made a terrifying situation bearable, and we will never be able to show how grateful we are to them. Please pass our thanks on to these wonderful women —your nursing department should be applauded for its fabulous, loving care.

If you could also please pass on our thanks to Dr. Webb and Dr. McElligott for their wonderful care as well. MUSC saved our sweet girl, and we are more thankful than we can ever convey.

Employee, Physician of the Month nominations encouraged
Employees are encouraged to go to the Reward and Recognition (R&R) section of the MUHA intranet to nominate others for the Employee of the Month (EOM) and Physician of the Month. These nominations are for going above and beyond.

All applauses are reviewed and the R&R team votes for the employee of the month. There can be up to four employees of the month.

Nomination process

Each EOM has a surprise celebration at their work location. Cake is provided to be celebrated with their team, because the employee of the month couldn't be successful without their coworkers or staff.
On the second Wednesday of every month the presentations will be awarded; however, due to clinic schedule and some staff working nights, some presentations may be scheduled at another time.
Pictures of the presentation are placed in The Catalyst, and on an LCD screen outside the main cafeteria. This same process is used to recognize Physician of the Month. In addition, the Physician of the Month is presented with an MUSC Excellence watch and a plaque.



Employee of Year nominations
Give that special, outstanding employee the recognition he or she deserves for their commitment to MUSC Excellence, and for going way above and beyond to ensure the best possible experience for patients and their families.

Nominations will be accepted through July 7. The nomination form will be available on the MUSC intranet homepage beginning June 26.


2nd Quarter Standards
Maintain a safe and secure work environment

Clean up litter, debris and spills promptly

Always wash hands before patient contact

Put patients and families at ease by managing up coworkers

Friday, June 26, 2009