by Leah Hyatt
Public Relations
Ralph F. Hirschmann, Ph.D., former university professor of biomedical research at MUSC, passed away at age 87 due to kidney disease on June 20 in Worcester, Pa.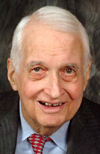 Dr. Ralph Hirschmann


Born in Fürth, Germany, Hirschmann immigrated to the United States in 1937 and became a citizen in 1944. He received an undergraduate degree from Oberlin College in Ohio and later earned a doctorate degree in organic chemistry from the University of Wisconsin in Madison in 1950. That same year, Hirschmann began his 37-year career at Merck Research Laboratories in Rahway, N.J.

Starting out as a process research chemist, Hirschmann became the director of medicinal chemistry and eventually retired as senior vice president of basic research in 1987. In 1969, Hirschmann helped lead the Merck team that performed the first in-solution synthesis of enzyme ribonuclease. While at Merck, Hirschmann and his research team also developed several widely-used drugs such as Vasotec, Lisinopril, Primaxin, Mevacor, Proscar and Ivomec.

After retiring from Merck at age 65, Hirschmann joined the faculty at the University of Pennsylvania as the Rao Makineni Professor of Bioorganic Chemistry. While at Penn, he collaboratively established the field of peptidomimetics. Hirschmann was associated with more than 100 patents and co-authored more than 150 papers.

Hirschmann also held a teaching appointment at MUSC from 1987 to 1999 as the university professor of biomedical research. He was the recipient of an honorary degree in 1997 recognizing his contributions in biomedical research. MUSC also established an endowed chair in his honor—the Ralph F. Hirschmann Professorship of Basic Biomedical Science.

Hirschmann received many awards and honors during his career. In 2000, he received the National Medal of Science in Chemistry from President Bill Clinton, and he was inducted into the American Chemical Society (ACS) Medicinal Chemistry Hall of Fame in 2007. He was also awarded the ACS Alfred Burger Award in Medicinal Chemistry, the ACS Arthur C. Cope Award, the William H. Nichols Medal Award of the ACS New York Section, the Edward E. Smissman Bristol-Myers Squibb Award of the ACS Division of Medicinal Chemistry, the American Institute of Chemists Gold Medal Award and the Chemical Pioneer Award, the Merck & Co. Inc. Board of Directors Scientific Award, and the National Academy of Sciences Award for the Industrial Application of Science. He served as the chairman of the Board of Trustees of the Gordon Research Conference in 1984, was elected to the Board of National Academy of Sciences, and also served on a study section of the National Institutes of Health.

Hirschmann is survived by his wife, Lucy, of 58 years; son, Ralph; daughter, Carla Hummel; and six grandchildren. A memorial service to celebrate Hirschmann's life and work will be held July 14 at Irvine Auditorium in Philadelphia, on the University of Pennsylvania campus.

In lieu of flowers, contributions may be made in his memory to Doctors Without Borders USA, P.O. Box 5030, Hagerstown, M.D., 21741-5030; National Kidney Foundation of Delaware Valley, 111 South Independent Mall East, Suite 411, Philadelphia, P.A., 19106-2521; or the Philadelphia Orchestra, Annual Fund Office, 260 South Broad Street, 16th Floor, Philadelphia, P.A., 19102.

---

Ralph Hirschmann was a great scientist and a wonderful human being. He was a valued advisor to us on developing our research efforts in areas such as structural biology. He will be deeply missed by many here at MUSC.
–Ray Greenberg, M.D., Ph.D., MUSC President


Ralph Hirschmann was a gentleman and an outstanding scientist. During his time as a university professor at MUSC he helped set the course toward building structural biology capability here. I valued very much my discussions with him, and missed them greatly when he was no longer able to travel to Charleston. Shortly before his death, I had written to him that the Drug Discovery Building was finally in motion. It is regretful that he was not able to see its completion.
--Daniel Knapp, Ph.D., Professor of Pharmacology and Director, MUSC Proteomics Center


Ralph invested significant thought and energy in advising MUSC about the future of research and how to develop the Department of Biochemistry as an anchor for basic research. I knew Ralph as a very astute yet modest scientist and humanist. He cared about the things he did (research, science development, drug discovery) and the people he interacted with. In Ralph I had an extremely valuable mentor, and although we had only a few direct interactions over the years, these were precious, and we were always on the 'same page'. Ralph adopted MUSC and its drive to excellence as an important personal cause. He was the true gentleman-scientist.
—Yusuf Hannun, M.D., Ralph Hirschmann Professor and Chair, Department of Biochemistry and Molecular Biology


As a consultant to the university and our department, he was invaluable because of his insights and thoughtful advice. It was always a pleasure to meet with him.
--Perry Halushka, M.D., Ph.D., Dean, College of Graduate Studies and Professor of Pharmacology and Medicine

MUSC benefited hugely from a close relationship with Ralph Hirschmann that spanned two decades. After he retired from Merck & Co. in 1987, Dr. Hirschmann served as a distinguished university professor at MUSC and spent several weeks every year in residence at MUSC until "doing the Charleston" got to be difficult. Ralph was not only a superb scientist, but he was also an adept manager of people, a highly skilled strategist and an absolutely wonderful human being. He was a valuable ally, an astute advisor and a treasured friend. MUSC is a better place for our association with Ralph Hirschmann, and the world of science is smaller without him.
--Peggy Schachte, Director, Office of Research Development


Ralph Hirschmann was the verp epitome of the phrase "a gentleman and a scholar." He was brilliant, gentle, kind and very humble. I consider him a good friend who contributed greatly to the Medical University of South Carolina's progress. I will miss him terribly.
—James B. Edwards, DMD


He was a fine man in every way – a true gentleman, a brilliant scientist, an excellent mentor, and a wise advisor. Much of the research growth at MUSC on the way to the first $100 million mark was at a time when he was advising the administration, and many of the decisions made were certainly influenced by his input. Knowing and working with him was a great privilege.
--Rosalie Crouch, Ph.D., Professor, Department of Ophthamology









Friday, July 10, 2009