by Cindy Abole
Public Relations
Hampton native Thomas Joyner suffered from heart failure for years, but last fall his health deteriorated dramatically. Ashen and weak, Joyner, a father of three and former paramedic and volunteer firefighter, struggled with advanced stages of congestive heart failure.

After being admitted to a Charleston area hospital several times for recurrent symptoms Joyner was referred to Jennifer Peura, M.D., and the heart transplant team at the MUSC Heart & Vascular Center. As he required intravenous medication to help his heart function properly he was quickly placed as a Status 1B on the United Network for Organ Sharing (UNOS) heart transplant list.


Unfortunately, he took a turn for the worse while waiting at home for news of a donor heart. He was re-admitted to the hospital with dramatically low blood pressure, kidney and liver failure. He was placed on life support and upgraded to Status 1A,, the top priority status for receiving a donor heart.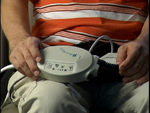 MUSC patient Thomas Joyner shows off his new HeartMate LVAD device, a new bridge-to-transplant device that helps pump the heart. The device is the size of a portable CD player and fits within a pouch that he carries everywhere.

Running out of time, Peura evaluated her patient for a new mechanical heart assist device, the Thoratec HeartMate II left ventricular assist device (LVAD). Joyner became the first South Carolina patient to receive this new heart pump device. The HeartMate II can serve as a bridge-to-transplant for patients who are awaiting a heart transplant. Joyner's implant surgery was conducted by Matthew Toole, M.D., cardiothoracic surgeon, on April 7.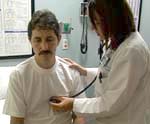 Thomas Joyner completes a check up with MUSC's Dr. Jennifer Peura.


According to Toole, the FDA-approved device restores a person's blood flow by taking over the heart's pumping action. A small, fast-spinning turbine rotor pump allows the blood to circulate continuously, thus giving the patient an almost non-detectible pulse. The device prevents the consequences of heart failure such as fatigue, swelling and multiple organ failure. An electronic controller and batteries, which are worn in a holster outside the patient's body, power the rotor pump.
"Without the HeartMate II, Joyner would have died before receiving a heart transplant or been committed to the hospital for support with an older LVAD that has significant restrictions," said Peura, who conducted her internal medicine residency at MUSC and served as medical chief resident. "This new HeartMate device allows him to be mobile and enjoy a remarkable quality of life while awaiting transplant."

Since the 1980s, MUSC's Heart Transplant program has cared for hundreds of heart transplant patients from across the Palmetto state. Today, MUSC's program boasts survival rates among the best in the nation thanks to their multidisciplinary team that includes nurses, nurse practitioners, physical therapists, nutritionists, financial counselors and others. This team is anxious to expand their practice to HeartMateII as it will provide the opportunity to save even more lives.

During her Advanced Heart Failure fellowship at Washington University in St. Louis, Peura participated in clinical trials for the HeartMateII. "In the near future we anticipate use of this device to improve the quality of life for all patients with advanced heart failure, even those not candidates for transplant," said Peura. In July, Michael Craig, MD will join the team following completion of an Advanced Heart Failure Fellowship at The Ohio State University, one of the busiest LVAD programs in the nation. This team is ready and excited to welcome patient referrals for HeartMateII.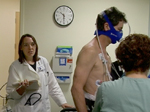 Dr. Jennifer Peura monitors patient Thomas Joyner in preparation for his July 10 heart transplant.

According to Peura, an estimated 30 percent patients listed for transplant die before a heart becomes available. Many more are too sick even to be listed. With the Heartmate II and other heart assist devices, patients have improved physical condition while waiting for transplant and others may become transplant candidates as their condition improves. "Our worry is that statewide options for patients with advanced heart failure may seem limited, however with heart transplant and the HeartMate II we are able to offer more hope than ever before," said Peura.

Meanwhile, Joyner is pleased to have made it to his 48th birthday on June 7. He participated in daily medically-supervised exercise sessions at MUSC's Cardiac Rehab facility at the corner of Bee and Courtenay streets, and is now enjoying an active lifestyle at home while awaiting his heart transplant. He's anxious for the day that he will return to work as an electrician and plumber; resume family activities; and enjoy other things like fishing.

"I hope to get to see and enjoy a lot more birthdays in my lifetime," he said, with a smile. "I didn't think I'd make it to this one. I'm grateful to MUSC's nurses, physicians and staff for giving me the best of care."







Friday, July 10, 2009