by Leah Hyatt
Public Relations
As many students began their summer activities, 16 high school students prepared for a possible future in health care at MUSC's Nursing Your Career Summer Nursing Camp. For the eighth year, MUSC and the Charleston County School District's (CCSD) School-to-Careers program have worked together to provide this opportunity to local high school students. In the three-day camp, June 16-18, students had the opportunity to develop their interests in nursing and learn new skills that are important in the health care field.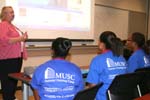 Mardi Long, left, director of student and alumni affairs, MUSC College of Nursing, shares her knowledge with students to encourage them to consider a career path in nursing.

The camp aimed to attract students to nursing and give them suggestions about what they can do in high school to gain relevant skills and choose courses that will prepare them to enter nursing or other health care professions. The camp hoped to encourage students to pursue careers in nursing in order to help alleviate the statewide and national nursing shortage.

The students participated in many activities from attending presentations, completing cardiopulmonary resuscitation (CPR) training and receiving certification, and shadowing nurses in two, two-hour experience rotations. The camp ended with a closing ceremony and reception at the Colbert Education Center & Library in which the students received stethoscopes.

Activities in the MUSC Health Care Simulation Center in the College of Nursing gave high school students hands-on experience. In the lab, participants honed basic skills such as drawing blood, tracheotomy care and suctioning, and infection control measures such as hand washing and using personal protective equipment (PPE).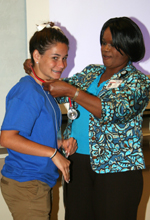 James Island High School student Tabatha Hayes receives a stethoscope from camp coordinator Yvonne Martin to mark the completion of nursing camp. Parents were invited to the June 18 closing ceremony and reception which took place in the Colbert Education Center & Library.

The students then applied their new knowledge while shadowing nurses in various units of the hospital such as transplant, antepartum, trauma, neuroscience intensive care, digestive disease, surgical oncology and emergency department areas. They observed nurses using computers and medical equipment and also asked nurses questions about their careers and education. Campers considered this part of nursing camp both fun and interesting. Interested in radiology and pediatrics, Jessie Jeffcoat, a Wando High School student, saw a pain pump being administered to a patient and was able to translate the simulation lab experience to her shadowing rotations. Lindsay King, West Ashley High School, shadowed in the Emergency Department and found it insightful. She enjoyed learning about all of the career options in health care.

Camp coordinators emphasized professionalism in nursing. Attending a session about job shadowing etiquette, writing thank-you notes to program nurses, and observing on-the-job interaction between nurses and patients, students experienced professionalism necessary in health care.

The program curriculum also valued communication skills just as much as science and math skills within the profession. Nurses interact daily with patients, families and colleagues. Developing professionalism and communication skills along with studying math and science prepares youth for a career in the health care industry.

Diane Spriggs, mother of camper Cara Spriggs, who attends Charleston Charter School for Math and Science, said she thought this camp was a good idea for any student to gain career experiences. Her daughter is interested in pharmacy and was admitted to the biology career track at her school.

Yvonne Martin, R.N., MUSC nurse retention & community outreach coordinator, attributes the success of this year's camp to the efforts of all involved.

"We could not have done it without the help of the volunteers who staffed the Skills Lab; the nurse managers who allowed the students to job shadow on their units; and the speakers who provided students with inspiring stories and insightful information on careers in nursing and health care," said Martin. "I would especially like to thank the nurses who were so welcoming to the students when they arrived on the units. Their support and encouragement exemplifies MUSC Excellence."


Friday, July 17, 2009