Editor's note: Welcome to the Global Health page. The purpose of this feature is to raise awareness of global health issues with an academic spirit to help improve the quality of care provided to patients. E-mail globalhealthnews@musc.edu.

This month's feature is Mali, a landlocked country in Western Africa. Pediatrician Brett MacLean, M.D., provides some back-ground information on Mali and a clinical case involving a patient that presented to Koutiala Hospital where Mac-Lean has worked since the fall of 2007.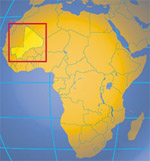 MacLean was a pediatric resident at MUSC from 2001-04. After residency training he worked in the MUSC Pediatric Emergency Department for two years. He then attended language school in France before starting a long-term assignment with his family (his wife, Sheri, and their three sons) at Koutiala Hospital.

Clinician's corner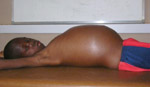 When the patient arrived at a hospital in Mali, he had a growing abdomen, among other symptoms.

An 8 year-old Malian boy presents to your clinic with intermittent fevers and increasing abdominal swelling for the past few months. He also has had a decreasing appetite, and despite his growing abdomen, his arms and legs have been getting thinner. His physical exam is significant only for HSM (hepatosplenomegaly) and abdominal ascites. His BP (blood pressure) is normal, as is his WBC (white blood cell) count and urinalysis. Echocardiogram shows normal structure and function of his heart. Peritoneal fluid negative on acid-fast stain.

The most likely diagnosis is:
A. Nephrotic syndrome
B. Congestive heart failure
C. Abdominal tuberculosis
D. Malaria
Answer: C. Abdominal TB. Patient received paracentesis for sympto-matic relief then two months of quadruple anti-TB treatment followed by six months of two drug treatments. Despite this patient's unusual presentation and lack of known TB exposure, he got better during his course of treatment and the ascites had not recurred even 12 months post treatment. Tuberculosis in children is often a diagnosis of exclusion as acid-fast stains are frequently negative as in this case.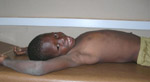 The patient after being correctly diagnosed.

Mali: one of world's least developed countries

by Brett MacLean, M.D.
Despite its rich history, Mali is a country of extreme poverty. At one time Mali was the major ruling kingdom of West Africa and the key trader between North Africa and Central Africa. Mali is also home to the famous "City of Gold" Timbuktu, having achieved this nickname during its height of success in the 1300s when the emperor of Mali made his pilgrimage to Mecca. The emperor, traveling with 60,000 porters each carrying 3kg of gold, showered gifts of gold on those around him, so much so that the currency in Egypt actually lost value for quite some time.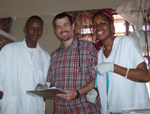 Dr. Brett MacLean, center, works with Malian nurses Joseph Kamaté and Neema Diop.

In the last 500 years, though, Mali has struggled to regain any of the wealth from that time period. It is one of the least developed countries in the world and is the fourth poorest according to the Human Development Index. Its main export is cotton, which suffers greatly due to having to compete with the relatively wealthy subsidy-supported farmers of the United States. According to the United Nations Development Program, 77 percent of all Malians live on less than $2 a day. Literacy is a gigantic problem as well. The World Health Organization reports an estimated literacy of only 21 percent of the population,
with those predominantly being men.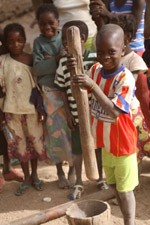 Malian children play in their village and smile for the camera.

The level of health care in Mali is astounding and seems to lag even further behind its general level of poverty. Nearly one out of every four children dies before his or her fifth birthday. Ten percent of all women die as a result of pregnancy or labor. Twenty- five percent of all children are born with low birth weight. Also the prevalence of hepatitis B is approximately 12 percent.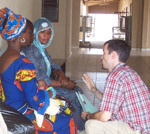 Dr. MacLean meets with a new mom and her baby to discuss health care in a clinic in Mali.





Friday, July 31, 2009