by Leah Hyatt
Public Relations
This summer, approximately 120 teenagers will volunteer more than 8,000 hours at MUSC through the Candy Stripe Program. As part of this program, young people have the opportunity to volunteer in their community and gain experience that they can apply to a career in health care.

Candy stripers perform a variety of tasks throughout the hospital. Their duties might include greeting and directing visitors, escorting families of patients, transporting patients, serving coffee and tea to staff and visitors, assisting with meal preparation, providing bilingual services, and delivering flowers, meals and mail to patients.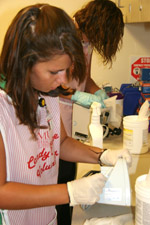 Candy stripers Katelyn Stalbird (front) and Katharine Summers clean equipment that they will distribute to the nurses' stations.

Matthias Frye, volunteer recruiter with Volunteer and Guest Services, said that one volunteer even plays the piano for patients and visitors at Hollings Cancer Center. "The candy stripe program provides assistance to departments that could use an extra set of hands," explained Frye. "The junior volunteers also help make the hospital a little happier and friendlier."

In addition to providing much needed support in the hospital, the program also hopes to influence the career goals of volunteers. "We offer teens in the community a small glimpse through the health care window," said Katy Kuder, manager of Volunteer and Guest Services. "I know that we will affect and change the career paths of some students. We will assist in enriching the lives of young boys and girls, while encouraging a career in health care."

Teenagers who volunteer get to meet health care professionals and observe some of the activities and tasks that are involved with certain health care jobs. Georgia Barfield, a student at Wando High School, said that her volunteer experience reaffirmed her plans to go into the medical field. "I already knew that I wanted to be an OB/GYN," Barfield said. "After volunteering here, I'm 100 percent sure that's what I want to do."

The Candy Stripe Program is for volunteers between the ages of 14 and 18 who can participate in one of three summer sessions. The first session was June 15 – 26, the second was July 13 – 24, and the third is Aug. 3 – 14. Students are required to work a total of 72 hours during their two-week session.

Last summer, organizers expanded the program from one summerlong session to three two-week sessions to allow for a maximum number of students to volunteer at the hospital. Interested students, however, can volunteer for all three sessions.

Shelby Jones, a student at Porter-Gaud High School, volunteered during the first and second sessions in order to meet her high school's required 90 hours of community service. Shelby worked as a concierge in Ashley River Tower. She answered the telephone, signed in visitors, and escorted families to see their admitted family member.

"I like interacting with the patients and their families," said Jones. "People with all different backgrounds come in. Many people come here from out of state. The other day I even got to meet a family from Venezuela."

This program is a unique opportunity both for students interested in health care and also those who simply want to do community service. "We accept a number of volunteers who just want to help out and those who want to do something constructive with their free time," said Frye.

Volunteer Katharine Summers, a student at Cane Bay High School, helped in the central distribution area where she worked with various types of equipment. In her role as a junior volunteer, she wiped down, bagged up, and distributed equipment to the appropriate nurses' stations. She worked with feeding pumps, foot pumps, IV pumps, epidural pumps, and other equipment.

While Summers is interested in medicine as either a physical therapist or hospital administrator, she pointed out that this volunteer experience will be useful toward any future goal. "Volunteering looks good on college applications," Summers said.

Whether preparing for a future in health care, building up a college resume or just wanting to make a difference in the community, youth provide significant service to MUSC every summer.

For more information about volunteering, call MUSC Volunteer and Guest Services, 792-3580, or visit http://www.muschealth.com/volunteer.



Friday, July 31, 2009