by Leah Hyatt
Public Relations
A lifelong learner, teacher, and physician, James Ward, Jr., M.D., passed away at age 74 May 28 in Charleston.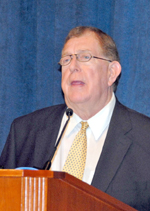 Dr. James Ward Jr.

Born in Charlotte, N.C., Ward received two undergraduate degrees in biology and chemistry from Wake Forest University, a medical technology degree from Phillips University in Oklahoma and master's degrees in microbiology and genetics from the University of New Hampshire. He completed his medical degree from MUSC in 1966 and conducted his residency training in pediatrics, pathology, and pediatric hematology and oncology. He later received master's degrees in counseling psychology and special education.

Considered Mount Pleasant's first pediatrician and a family practitioner, Ward was also an educator, teaching at the University of New Hampshire, Furman University, Anderson College, College of Charleston, The Citadel and MUSC. Ward was a lecturer and expert on ADHD/dyslexia and has published numerous articles on the topic.

He was an active member of several professional and historical organizations including the South Carolina Academy of Pediatrics, Charleston County Medical Society, South Carolina Medical Association, Phi Sigma, Beta Beta Beta and Alpha Omega Alpha Medical Honor Fraternity.

Ward served the Waring Historical Library at MUSC as an active board member and the immediate past president. Ward often lectured at the weekly Medical Student History Club meetings and established the W. Curtis Worthington research paper competition to recognize papers from international health sciences students.

He devoted much of his time to the Mount Pleasant CARES (Community Aid, Relief, Education, and Support) clinic and the Roper St. Francis Healthcare's after-hours urgent care program, PedsPlus. Ward also supported the arts in Charleston as the past president of the Charleston Symphony, member of the Gibbes Art Museum and chair of the music committee at First Baptist Church in Charleston.

Caring for patients and teaching others how to do the same, Ward was a prominent figure in health care in the Charleston area for years. Sharing his knowledge with others and encouraging students to learn and be compassionate were attributes for which he will be remembered.

Ward is survived by his four children, Thomas Rush Ward, Elizabeth Ward Paddock, William McIlwain Ward, and Judith Chaworth Ward; three grandchildren; and other family. He was predeceased by wife, Louise Ward.

In memory of Ward, donations may be made to the Waring Historical Library Society at MUSC, MUSC 403, Charleston, SC 29425-4030.


Jim was a special physician: a passionate pediatrician who really cared for his patients; a talented teacher who worked with students at the Citadel, The College of Charleston, and especially the Medical University of South Carolina; a fantastic father and family man; and a scholarly student of Medical History ( especially Gullah history). Jim worked with medical students in the free Cares Clinic and gave of his time to many charitable causes. He worked with the Student Medical History Club and the Robert Wilson Medical History Club. He was elected by students at MUSC into Alpha Omega Alpha, the Medical Honor Society.

I asked Dr. Ward to speak to my medical class reunion in 2008 (our 55th reunion) and again this year at our 56th. He spoke in 2008 about "Gullah Root Medicine" and this year his topic was "The Relationship (possible father: son) between John C. Calhoun and Abraham Lincoln. We'll all miss Jim.
—Biemann Othersen, M.D., Professor of Surgery and Pediatrics, Emeritus Head Pediatric Surgery

Jim was instrumental in establishing a paper competition with the Waring Library Society named in Dr. W. Curtis Worthington's honor. His efforts on this were as much to honor his good friend as it was to stimulate an active interest among students in the history of medicine. He cared so passionately for the "young people" (as he always called them) whom he met in his many roles: teacher, mentor, physician and friend. His enthusiasm for life was contagious and he encouraged countless individuals to embrace their potential and follow their dreams.

We will hold a memorial service for Jim at St. Lukes' Chapel in fall 2009 once the students are back. Jim so loved the students he worked with, and we wanted to be sure that they had an opportunity to remember him.
—Susan Hoffius, Curator and Assistant Professor, Waring Historical Library and Waring Library Society

I was blessed to have known Jim Ward. One thing that may not have been expressed in other remembrances was the high regard in which he was held by students —for his love of teaching and of medicine and his patients. About two years ago, he was elected by the medical students to Alpha Omega Alpha Medical Honor Society. I have always felt that this is an even greater honor than being elected as a student, and Jim deserved it more than anyone else I can think of.

Jim loved South Carolina, Charleston and the Medical College (MUSC) and the history that binds them all together. He has been active for decades and served last year as the president of the Waring Library society and was one of the members of the Robert Wilson Medical History club that never missed a meeting. He was personally responsible for the institution of the Curtis Worthington Essay Contest that is sponsored by the Waring Library.

He cared for generations of children in Mount Pleasant, and at MUSC graduations would repeatedly say at each commencement: 'He/ she is one of mine' when one of his former patients crossed the stage— often more than one person in each of the colleges.

He was, for me, the epitome of a Southern gentleman, and a model physician and teacher. I will miss him.
—Stephen I. Schabel, M.D., Professor of Radiology



Friday, July 3, 2009