by Leah Hyatt


Public Relations


Thanks to Ozzie's Project, patients placed in isolation at MUSC Children's Hospital will have new opportunities to play and socialize with others. Ozzie's Project is a grant-funded program that gives patients in isolation the necessary outlet of play and activity that they would otherwise not have.

A hospital experience can be stressful for any child. Most young patients at the Children's Hospital have the opportunity to play and socialize with other patients and family members at the Child Life Atrium. Isolated patients, however, are restricted from those same opportunities because of their diagnosis.

The YES Family Fund and the Volunteer Advisory Committee's MUSC license plate project both help fund Ozzie's Project. This year, the YES Allocation Committee awarded Ozzie's Project with a $2,500 Family Fund grant. The Volunteer Advisory Committee contributed $3,900 from sales of the MUSC Children's Hospital license plate.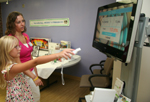 Ozzie's sister, Kristen Camilletti, 9, demonstrates how a Wii Fit game works to volunteer Emily Wallace.



Ozzie's Project is named after a young patient with cystic fibrosis who spent more than 150 days in isolation at MUSC during the last two years of his life. Ozzie was a vibrant child who often wanted to play and socialize, yet his isolation status prevented him from interacting with others. This new program will use technology and other resources to help normalize the hospital experience.

These funds have purchased laptops, a Sony Wii video game system, and items for Ozzie's Closet. "Ozzie's Closet provides nurses with age-appropriate play items to give to children upon admission to the Children's Hospital when they are placed on isolation," said Tara Sampson, a child life specialist and atrium coordinator. Ozzie's Closet includes items such as Barbie dolls, Transformers figures, iTunes gift cards, travel size games and toddler toys.

The laptops purchased for Ozzie's Project connect to the Internet so that pediatric patients can stay in touch with friends and family at home and have built-in Web cams that enable them to communicate and interact with other patients despite being in isolation. "They provide us with the ability to virtually include isolation patients in support groups and Atrium activities, which has previously been impossible," explained Sampson.

The Wii system purchased for Ozzie's Project will allow patients in isolation to participate in physical activities while within the confines of their hospital room.

Ozzie's Project also includes individualized therapeutic resources, which are resources unique to the coping needs of isolated patients.

"These resources could include a cooking project with a patient's favorite food, a particular book or movie, sensory stimulation for the younger children, or anything else that would meet their current coping needs," said Sampson. "This allows us to provide play opportunities so crucial for patients coping in the hospital environment, especially when these children are confined to their room."

"Ozzie's Project is charged with improving the hospital experience of children in isolation through play outlets, educational resources, individualized therapeutic resources, and virtual socialization," added Sampson.

To purchase a Children's Hospital license plate and help support Ozzie's Project, visit http://musckids.com/news/license_plate.htm or visit a local Department of Motor Vehicle office.








Friday, Aug. 14, 2009