Editor's note: Welcome to the Global Health page. The purpose of this feature is to raise awareness of global health issues with an academic spirit to help improve the quality of care provided to patients. E-mail globalhealthnews@musc.edu.

Ali Vural
College of Graduate Studies
The Turkish government has always been primarily responsible for providing the health care services to its citizens and residents. Recently, various government-run social protection agencies were gathered under one umbrella called Social Security Foundation (Sosyal Guvenlik Kurumu-SGK) and all community hospitals are now under the Turkish Health Ministry.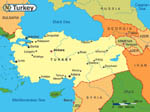 SGK is the major health care institution, providing free health insurance to people. How the system works: The employers—either government or private business owners—have to register their employees to SGK's database and pay taxes (they are reasonable and not too much) depending on their employee status. Once the person is in the system, he or she is provided with a health record document and receives free health insurance and can get any health service for free regardless of the health state or financial situation from government hospitals.

There are both government and privately owned hospitals in Turkey. The private hospitals having an agreement with the Health Ministry are an alternative place for the SGK insured people for health services. For example, you can have major surgery for free, where you have to pay thousands of dollars here in US. If the hospital does not have the technological background, then you are sent to one that does.

SGK also takes care of people who are poor, without jobs, by assigning them what is called a Green Health card for their health care.

Another service provided by SGK is retirement salaries. Once you retire, the government gives you an allotted monthly sum. In addition, while you are working, you can choose to give part of your salary, depending on a plan that you choose, to the government, which will be redistributed to you in monthly sums when you retire. You are basically lending money to the government treasury. The idea is to provide a comfortable life to the senior citizens, in addition to the free health care.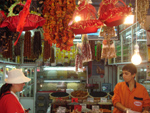 Fruits and vegetables are purchased at a local bazaar.

The organization of Economic Co-Operation and Development (OECD)'s recent Turkish health care system analysis reported that the health condition of Turkish society was significantly improved in the last 15-20 years with the progress in the health care services and the reforms in the health insurance program. However, there are still some gaps in the quality of health service and in the number of doctors per patient, particularly in the Eastern region of the country. To overcome that, new medical schools are being built to increase the number of doctors; doctors are having obligatory service in the Eastern region hospitals and new faculty is recruited to the schools.

Ban on indoor smoking
Turkey has a population of 71 million, where 60 percent of men, 20 percent of women and 11.7 percent of children smoke.

The government officials state that there are 120,000 deaths annually from smoking-related illnesses. The health care expenses of those patients have a huge pressure on government's shoulders.

To overcome this big problem, the government has introduced a two step smoking ban which has public support. In the first phase, smoking was prohibited in all facilities of education, entertainment, health and sports as well as public transportation as of May 19, 2008. It was then extended to include restaurants, coffeehouses, cafeterias and bars as of July 19. Patrons violating this ban will be fined $45, while owners who do not enforce the ban could be fined between $366-$3,660.

Turkey facts


Turkey is a democratic, secular, constitutional republic with a 99 percent Muslim population.
Anatolia is the birthplace of historic legends, such as Homer (the poet), King Midas, Herodotus (the father of history), and St. Paul the Apostle.
Turkey is noted for having one of the three most famous and distinctive traditional cuisines in the world, the others being Chinese and French.

Announcements
ISA/IA Welcome Back Lunch
Noon - 1 p.m., Sept. 2
Harper Student Center

Harvest Festival USA
6 - 8 p.m., Sept. 22
Redeemer Church

Charleston History Walking Tour
10 a.m. - 1 p.m., Oct. 3
Riverfront Park ~ Pineapple Fountain

English Classes
Intermediate 9:30-10:40 a.m.
Advanced 10:45-11:45 a.m.
Saturdays beginning Sept. 19
HSC Library, SW 224

Medical Spanish Classes
Basic and Advanced
6 - 8 p.m., Tuesdays, Sept. 8 through Oct. 13
Room 102, Colbert Education Center & Library

Visit http://www.musc.edu/international.

Friday, August 28, 2009