'Common' man prepares for Ironman race
by Patrick Mauldin




Department of Clinical Pharmacy and Outcome Sciences


SBR4FAAN—Swim Bike Run for the Food Allergy and Anaphylaxis Network (FAAN). This is what I will be promoting on Oct. 10 while participating in the 2009 Ford Ironman Triathlon World Championship in Kona, Hawaii.

This Ironman race consists of a 2.4-mile ocean swim, 112-mile bike ride, and then a 26.2-mile run. Each year, thousands of triathletes around the world try to qualify to participate in the race.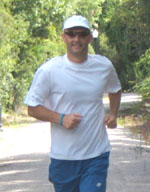 Patrick Mauldin trains for the 2009 Ford Ironman championship.



Most participants win entry into the race via very fast qualifying times in previous Ironman races held throughout the world. However, thanks to the vision of Ironman founder John Collins, who insisted that a system be maintained to allow the "common" person a chance to compete in this great race, 200 age-groupers will join the rest of the 1,800 strong in Kailua Bay in October. The 200 are chosen through a lottery system and guess who was picked among the thousands of lottery players this year? Me….Yikes!

I signed up for the lottery after listening to my latest Trace Adkins CD. I guess we each react to songs in our own way. The whole point is that I have children and nephews with severe nut allergies and have been a long-time member and supporter of FAAN. This organization has helped my family considerably. Thus, I really wanted to get out and do something to support FAAN and its research to help find a treatment or cure for devastating food allergies.

My chosen path of "social responsibility" was to sign up for the Ironman World Championship lottery thinking that if I was lucky enough to match the lottery, then I would do everything I could to help raise funding and awareness for nut-allergy research. Well on April 15, as I was asleep on my couch with golf on the TV and a few extra pounds on my waist, my neighbor knocked on my front door yelling… "I just saw on national TV that you matched the Ironman lottery!"

So now my life has changed a bit. Early to bed, early to rise, swim, bike, run and no more donuts (at least that's what I'm telling everyone). My inspiration is that researchers are making headway into finding treatments and possible cures for severe food allergies. If I can raise some awareness and needed money for FAAN to put toward their research programs, then perhaps all these 4:30 a.m. alarm clock bells will be worth it!

All pledged funds will go directly to FAAN, a 501(c) 3 not-for-profit organization. I will not receive any financial support from FAAN in any way other than allowing me to use their logo and to access its Web site.

Please think of me if you are ever awake at 4:30 a.m. and certainly send me your positive vibes on Oct. 10. I can't guarantee that I will finish this race by the 17 hour cutoff time, but I'll give it my best effort.

To donate, visit http://www.sbr4faan.net/.

Friday, Sept. 18, 2009

The Catalyst Online is published weekly by the MUSC Office of Public Relations for the faculty, employees and students of the Medical University of South Carolina. The Catalyst Online editor, Kim Draughn, can be reached at 792-4107 or by email, catalyst@musc.edu. Editorial copy can be submitted to The Catalyst Online and to The Catalyst in print by fax, 792-6723, or by email to catalyst@musc.edu. To place an ad in The Catalyst hardcopy, call Island Publications at 849-1778, ext. 201.