Student volunteer lifts patients, staff through music
by Cindy Abole




Public Relations


After three months, MUSC student volunteer Will Dantzler already realizes the value of volunteering and a commitment to service. The Bishop England High School senior spent much of his summer visiting patients, helping hospital staff on projects and sharing his musical talents as a junior volunteer at the University Hospital. The experience not only allowed him to gain some valuable experiences working in areas of health care, but it also helped him gain personal enrichment by caring and doing things for others.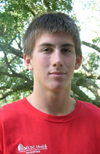 Will Dantzler



A shy, quiet young man, Dantzler, 17, is described as modest, intelligent, honorable and mature for his age. A model student, author (he wrote a fantasy novel called Sword of the Dragonmaster at age 13) and athlete, Dantzler, started volunteering to explore health care careers and in preparing college applications. In June, he contacted MUSC Volunteer Services recruiter Robert Watson. It wasn't long after Dantzler started that Watson discovered his love for music, particularly fiddle playing.

Dantlzer began playing the Irish fiddle and bluegrass music at age 9. He learned it from Allen Thompson, a talented fiddler who performed regularly on Nashville's Grand Ole Opry. He played with the Lowcountry Celtic fiddle group, Na Fidleiri (composed of musicians ages 12-19), and eventually received classical training with the violin. He feels more akin to country and bluegrass sounds, plus international folk music.

With the approval of hospital leadership and some guidance from unit nurses, Dantzler made his way around four floors of the main hospital playing music from his repertoire of hymns, popular tunes, bluegrass, Scottish reels and jigs to anyone who would listen.

"I'd enter a room and play a tune and everyone's attention would fall directly on me and my fiddle. Many would sit there mesmerized in the melody of music. I was more surprised at how a simple tune and instrument can bring comfort and encourage others. It was an incredible experience," said Dantzler.

The family of neurosciences intensive care patient Robert Timko was so touched by Dantzler's fiddle playing that it prompted his daughter, Pat Flystra, to write a note of thanks following her father's death. "I know it was through Will's violin music that enabled my dad to somehow tell my mom that he loved her one more time," Flystra wrote.

"It's incredible how Will instantly brought joy to so many people through his music," said Ramona Smith, R.N., 9West neurology/neurosurgery nurse manager. Dantzler would sometimes stop by and play for interested patients. "He's demonstrated that anyone can make a difference through volunteering."

In addition to his music making, Dantzler also worked in the Department of Anesthesia & Perioperative Medicine recovery room. He lent his computer knowledge and design skills to create a color brochure and plaque promoting an MUSC Health1st project. Health 1st is the institution's employee wellness program.

Manager Annie Lovering, R.N., had just started the StairWELL Project, a grant-supported program from the Eat Smart Move More South Carolina Coalition, to promote healthy lifestyle changes, healthy eating and active living. The project provided funds to commission the painting of multiple murals encouraging MUSC employees to be active and use stairwells at the President Street parking garage.

"Will took a lot of initiative in helping us with this project. We would collaborate weekly and he would show me his designs and ideas for my approval. Without Will's help, this pamphlet would not have been a reality," said Lovering.

With school back in session, football season starting and other commitments, Dantzler has temporarily cut back his volunteer hours at MUSC. He's taken his newfound volunteer experience and translated it as a topic in college application essays he's already submitted. At this time, he can't say that he'll commit his future entirely to medicine or music; he hopes to continue to volunteer at the medical center on the
weekends and bring joy to others through his music and involvement.


Friday, Sept. 18, 2009

The Catalyst Online is published weekly by the MUSC Office of Public Relations for the faculty, employees and students of the Medical University of South Carolina. The Catalyst Online editor, Kim Draughn, can be reached at 792-4107 or by email, catalyst@musc.edu. Editorial copy can be submitted to The Catalyst Online and to The Catalyst in print by fax, 792-6723, or by email to catalyst@musc.edu. To place an ad in The Catalyst hardcopy, call Island Publications at 849-1778, ext. 201.