New chair poised to steer division's growth



by Cindy Abole




Public Relations


For Canadian transplant John S. Ikonomidis, M.D., Ph.D., success and opportunity have been welcome companions throughout his professional and personal life. During his medical career and especially within the last nine years at MUSC, he's readied himself much like an understudy prepares to deliver his lines, or a protégé refines his talent.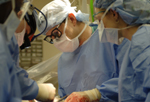 Dr. John S. Ikonomidis was named chief of CT Surgery July 1.



This unassuming, focused man would rather be known as the consummate clinician, dedicated teacher and active researcher. He loves his role as a physician and surgeon and all the challenges that go with it.

At a low-key July 1 event, Ikonomidis, as if on cue, stepped forward into the spotlight to officially take the reigns of leadership from his mentor and long-time surgery division chief and chairman Fred Crawford, M.D. Ikonomidis is MUSC's new chief of cardiothoracic (CT) surgery and Horace G. Smithy Professor of Surgery.



Expanding horizons


As a rising young surgeon and junior level clinical scientist in Toronto and California, Ikonomidis was familiar with MUSC's Cardiac Transplant Program's reputation as a top ranking program with among the best heart transplant patient survival rate outcomes in the nation. He also was familiar with the accomplishments of Crawford, Carolyn E. Reed, M.D., Francis G. Spinale, M.D., Ph.D., and others through their leadership at MUSC and nationally with the American Association for Thoracic Surgery and the American Board of Thoracic Surgery.

Throughout his 30-plus year tenure, Crawford led MUSC's CT program through achievements and expansion in several clinical care areas. The division focused on recruiting more experienced clinician-scientists who could work alongside translational scientists to advance new knowledge and research. So when MUSC was ready to expand in the 1990s, Ikonomidis also was ready.

"I am very excited to have Dr. Ikonomidis taking the reigns as chief of the Division of Cardiothoracic Surgery," said David J. Cole, M.D., McKoy Rose Professor and chairman of the Department of Surgery. "The CT Division has always had a national presence under the leadership of Dr. Crawford in terms of national stature, basic and translational research and clinical excellence. With him stepping down from this role this past July, I felt that it was important to have a national search to find the most talented individual to fill this position. As a gifted clinical surgeon, a rising star on the national stage academically, and an individual who is highly respected for his leadership skills, it was clear to me that Dr. Ikonomidis was the only person for this job. I am confident with him in this key divisional leadership role, that as a division and department, we will continue to build upon our high patient care and academic standards."

Crawford also is credited for strengthening the institution's most established and the Palmetto state's only CT surgery residency program. He focused on recruiting specialists with clinical and research knowledge to understand, apply and teach new surgical techniques, percutaneous treatments and applications of novel surgical devices. The program reached a pinnacle with the opening of Ashley River Tower in 2008, combining both general thoracic surgery and adult cardiac surgery services with general cardiovascular care in a modern, technologically advanced facility.

"This is an exciting time for our division," said Ikonomidis to colleagues during the July ceremony. "We have settled into an incredible new hospital designed for the continued growth of this program…The Cardiothoracic Surgical Division is currently in great health geographically, financially, academically, logistically and otherwise, thanks to Dr. Crawford's careful leadership. This puts us in an ideal position for continued advancement and growth where it's appropriate."

Ikonomidis' goals include increasing awareness of heart disease through education and prevention, and improving patient care. He's supportive to other forms of social media to introduce information and connect patients to resources. He also wants to expand the division's clinical involvement and collaboration with other departments to share research, protocols and practices that may help heart patients with their initial treatment and care.



Expanding sub-specialty training


For residency education, Ikonomidis wants to continue to boost the traditional CT surgical residency program, which requires five years of general surgical training. A new six-year program is being offered—matching physicians from as early as medical school graduation into an integrated residency focusing more on CT surgery and other related specialties. MUSC is one of only three residency programs in the country to host this newly integrated program. In addition, Ikonomidis also has plans to work with undergraduate medical students and medical residents from other specialties to provide learning opportunities.

"Our goal is to provide a rewarding experience for all surgery residents who rotate through our division," Ikonomidis said.

Other goals include the establishment of an integrated heart valve and aortic disease programs, combining expertise in CT surgery and cardiology; further progress with heart assist devices including the HeartMate II left ventricular assist device program, plus the establishment of a lung transplant program.

A native of Toronto, Ikonomidis attended the University of Toronto and earned his medical degree in 1989. He conducted his general surgery residency training at Toronto Hospital. In 1997, he began a three-year cardiothoracic surgery residency at Stanford University. It was here, working with world-renowned transplant surgeon Bruce A. Reitz, M.D., and cardiovascular surgeons D. Craig Miller, M.D., and R. Scott Mitchell, M.D., that he honed his sub-specialty expertise in cardiopulmonary transplantation and thoracic aortic disease.

In 2000, he was hired as an assistant professor of cardiothoracic surgery and Division of Cardiothoracic Surgery chief at the Ralph H. Johnson VA Medical Center where he also shared dual hospital appointments.

"John Ikonomidis is uniquely qualified and positioned to lead translational research efforts which address critical issues in cardiovascular disease," said Spinale, professor of surgery and director of the MUSC Cardiothoracic Surgery Laboratory.



Friday, Sept. 25, 2009