by Cindy Abole
Public Relations
Organizers of the Paul B. Underwood Jr. Chapter of the Gold Humanism Honor Society (GHHS) recently recognized 24 model medical students for exhibiting outstanding compassionate care and empathetic qualities to their patients, their families and health care colleagues. The luncheon event was held July 29 at the Wickliffe House as a way to honor senior medical students in this annual peer-selection process.

Recognized were fourth-year medical students: Martin Avery, Andres Ayuso, Robert C. Brownlee IV, Annie Chen, Matthew Dettmer, Aundrea Eason, Jamie Fraser, Parker Gaddy, Robbie Hendry, Arnold Hite Jr., John Korman, James Kuhlen Jr., Ashley Kuklentz, Ann Leylek, Courtney McFaddin, John Nance Jr., Thomas Nessler III, Elizabeth Norman, William Perkins Jr., Cassandra Stewart, Robert Taylor Jr., Karin Taylor, Juan Varela and Jennifer Zurosky.

Established on campus through the College of Medicine (COM) in 2004, the Gold Humanism Honor Society began recognizing and inducting students from each fourth-year medical school class. In 2005, students and COM leadership renamed the chapter in honor of Underwood, a long-standing clinician and educator working in the dean's office and Department of Obstetrics and Gynecology. Underwood has long been recognized for his dedication to students, mentoring, leadership and compassion.

"It's a special honor to be here honoring you at this luncheon," said Underwood, who has worked with the college and admission committee since 2000. Underwood reminded the newly tapped inductees to work hard in their profession and never forget their role in society.

The event also was attended by COM leadership including Dean Jerry Reves, M.D., Jeff Wong, M.D., senior associate dean for medical education and faculty advisor to the society chapter, Underwood and other colleagues.

"I share in the enthusiasm of this day and recognize each of you for being selected to this society," said Reves. "There's no better honor than to be recognized by your peers. I want to say that I feel Paul is very deserving to have this chapter named in his honor. For nine years, he devoted his time in helping to make the medical school class selections and developing many talented people that are successful doctors today."

After the welcome and lunch, inductees were introduced, received a GHHS pin, which they pinned on each other, and pledged an oath to be active advocates in humanism while encouraging professionalism.

"I'm honored that my classmates chose me," said Avery, a fourth-year medical student from New York. "Being selected in this way and getting recognized at this luncheon is much more than I expected."

Colombia, South America native Varela is grateful to the medical faculty and his peers for selecting him. "All of us are out there doing our best to provide the best patient care. Getting this recognition is a fantastic feeling. It inspires me to work harder as a good role model for patient care."

The Arnold P. Gold Foundation sponsors the Gold Humanism in Medicine Award, which supports nurturing and caring in medicine. More than 80 medical schools have active chapters or recognize students with this award each year.


Nephrologist honored for dedication to excellence
Rachel L. Sturdivant, M.D., assistant professor, Division of Nephrology, was recognized in May as a role model physician and mentor to medical students, residents and colleagues and received the Leonard Tow Humanism in Medicine Award. Sturdivant also was inducted into the Gold Humanism Honor Society with medical students in the July 29 ceremony.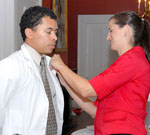 Dr. Rachel L. Sturdivant pins Martin Avery during the July 29 ceremony.

Sturdivant, who has been at MUSC for nine years, was honored for her dedication to medical excellence, accessibility and enthusiasm to students, leadership and compassion in clinical care.

The Alabama native received her medical degree from the University of Alabama in Birmingham in 1998. She arrived at MUSC in 2001 to complete an internal medicine residency and later, a Nephrology fellowship under David Ploth, M.D., professor and director, Division of Nephrology. She has served as associate program director of Nephrology's Fellowship Training Program since 2004.

Throughout her time at MUSC, she's contributed to the care of patients with chronic kidney disease and focused on meeting the needs of patients and offers guidance for long-term care. She's also participated in the medical education of students, residents and fellows.

"It's a wonderful honor and experience to be recognized," said Sturdivant. "I'm impressed with the care delivered by so many students and practitioners at MUSC, and I'm honored to work alongside them. I believe listening to and caring for patients is a privilege and that the relief of suffering, however it presents, is our goal as physicians."

The Leonard Tow Humanism in Medicine Award, which is sponsored by the Arnold P. Gold Foundation, was created in 1991 honoring its namesake, a lifelong student and teacher, for his commitment to innovative medical research, fostering social justice and humanism in medicine.


Friday, Sept. 4, 2009