The wait is over

After nine months and some unforeseen infrastructure construction delays, the first phase of MUSC's renovated cafeteria and dining facility is complete and open for business. During the interim, MUSC employees, students, patients and visitors ate and dined at the temporary hospital cafeteria and dining tent located in front of the Colbert Education Center & Library building.


The university hospital cafe's look is fresh and spacious thanks to a partnership between MUSC and Sodexo Health Care for providing guidance and a variety of appetizing meal choices offered by their Fresh Inspirations Café Design program. The program features an expanded menu offered in food stations including a soup and salad bar, grill, hot line favorites, world cuisine and a national restaurant, Chick-fil-A.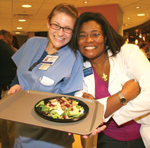 Drs. Heather Goode, Department of Psychiatry, left, and Allison Jordan, Department of Internal Medicine/Psychiatry are all smiles about the fresh salads and choices at the soup and salad bar. For information about MUSC dining services, visit http://www.muschealth.com/nutrition/dining/index.htm or call the menu line at 792-8713.

Diners can select from sizzling salads, Italian classics, as well as ethnic and regional foods in World Cuisine, omelets-to-order, and a fruit and yogurt bar for breakfast. Hot entrees include sirloin tip roast, barbecue ribs, roast turkey and glazed salmon. Dine-in patrons also can choose between bench-style, multi-table and individualized seating.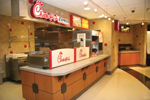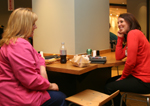 Child Life's Jennifer Redfern, left, and Megan Kalscheur eat lunch at one of the new seating options in the dining room.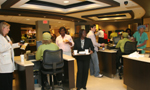 The café provides easy traffic flow for patrons around themed food stations including Favorites, which offers hot food items like rotisserie chicken and other entrees. Diners can check out at one of six cashier stations using cash, payroll deduction, an MUSC debit account or all major credit cards. Chick-fil-A also received a facelift in the process with added counter space for condiments and supplies.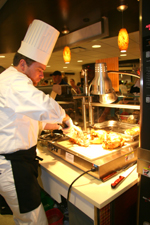 Sodexo executive chef Fred Bennett carves hot chicken for the lunch crowd.
Friday, Jan. 22, 2010

The Catalyst Online is published weekly by the MUSC Office of Public Relations for the faculty, employees and students of the Medical University of South Carolina. The Catalyst Online editor, Kim Draughn, can be reached at 792-4107 or by email, catalyst@musc.edu. Editorial copy can be submitted to The Catalyst Online and to The Catalyst in print by fax, 792-6723, or by email to catalyst@musc.edu. To place an ad in The Catalyst hardcopy, call Island Publications at 849-1778, ext. 201.