$25 added to premiums for tobacco use




by Cindy Abole




Public Relations


Nicotine addiction is a physical and emotional dependence that's as powerful as being hooked on heroin and cocaine.

According to the Centers for Disease Control and Prevention, about 46 million Americans, or 20.6 percent of the U.S. adult population, smoke cigarettes. From that number, an estimated 443,000 people are expected to die each year from smoking and tobacco-related illnesses.

The dangers of long-term tobacco use directly affect people's overall health and are responsible for heart disease, aneurysms, bronchitis, emphysema, stroke and other debilitating chronic disease and conditions. According to the American Cancer Society (ACS), employees who smoke are reported to make six times more visits per year to health care facilities than employees who are non-smokers.

According to the South Carolina Budget and Control Board's Employee Insurance Program (EIP), tobacco-related illnesses cost the state's health plans (State Health Plan, BlueChoice Health Plan and CIGNA HMO) an estimated $75 million per year.

To reduce rising medical care costs among public workers, South Carolina joined other Southern states like Georgia, Alabama, Kentucky and West Virginia by imposing a $25 per month surcharge (began Jan. 1) to employees' health insurance premiums for those or any covered family member who smoke or admit to using tobacco products.

Last November, South Carolina state employees were required to complete a Certification Regarding Tobacco Use form indicating their status. Employees who wish to avoid this surcharge must be tobacco-free for at least six months and must recertify their status annually. If an insured employee or any of their covered dependents use tobacco products within the six months after the date of certification as non-tobacco user(s) and do not notify EIP, the insured employee is subject to penalties which may include payment of an additional $25 surcharge, plus a 10-percent penalty, for each month since last certification and elimination of out-of-pocket maximum for the current and subsequent year.

Use of these tobacco-use health insurance premium surcharge policies have been identified as part of wellness and can be considered as one way to manage health care costs. And employers like MUSC provide employees and their families with stop-smoking and cessation programs through MUSC's Health 1st wellness program and MUSC employee insurance companies like CIGNA's Healthy Roads for Living (800-244-6224), the State Health Plan Quit for Life program (866-784-8454) and BlueChoice Health Plan's Great Expectations (800-327-3183, ext. 25541) offered through ACS. Health 1st wants to know about any other smoking cessation programs that are available on campus.

For information, visit http://www.eip.sc.gov/tobacco_use/.

For information about MUSC stop smoking programs, visit http://mcintranet.musc.edu/health1st/smoking.htm.




Stop smoking programs empower, change lives



MUSC employees and their family members have more support than ever to help them quit tobacco use and become non-smokers. To help employees and family members take those first steps in breaking the habit, MUSC offers a variety of tobacco cessation classes and programs.

One program, MUSC Quit Now…For Life! is offered through MUSC Health 1st, the campus' wellness program, as a free smoking cessation class featuring a comprehensive approach.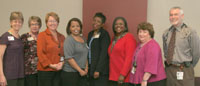 Health 1st's Annie Lovering Steele, from left, recognizes MUSC Quit Now For Life's January class Caroline King, Utilization Management; Debra Howard, MUHA Purchasing; Marie Nealy, Hospital Communications; Virgie Bryant-Green, MUHA Purchasing; and non-smoker graduates Beverly Jenkins and Kathy Burt, and program facilitator, Dr. Robert Mallin.



Classes are small (between five and seven people) and taught in six group sessions for a three-week period. The program is facilitated by Robert Mallin, M.D., professor in the Department of Family Medicine and Department of Psychiatry and Behavioral Science. Mallin, who has taught this class since 2005 and volunteers his time, has been involved with this type of work for almost a decade. He is board certified by the American Board of Family Medicine and American Board of Addiction Medicine.

"Our program is a plan to help people who want to quit smoking," said Mallin. "We follow well-studied approaches that examine both the psychological and social perspectives of smoking as well as providing help through education and group support."

Participants begin with a medical consultation and are evaluated for their status and the possibility of using smoking cessation medications. Other classes are devoted to the study of nicotine addiction and education and discussion. Mallin encourages participants to take action on "Quit Day," usually the fourth class. The final class ends with a graduation for the new non-smokers.

The program worked for Beverly Jenkins, a UMA coder with the Department of Anesthesia and Perioperative Medicine, who completed the program last January. On Jan. 24, Jenkins celebrated the first anniversary of her official "Quit Smoke" day and was invited, along with fellow non-smoker graduate Kathy Burt, Hematology-Oncology nurse manager, to address Mallin's current Quit Now group on Jan. 25.

"I've tried to quit smoking many times before," said Jenkins, a former smoker of 15 years. "After so many times trying to do this to please others, I decided last January that I was ready and committed. I wanted to do this for myself."

Jenkins and Burt shared their advice and experiences. Burt credited Mallin's program, the team support and ongoing communication with classmates to sustain her weeks and months after the program ended.

"It's so important to reach out to others, especially through struggles, to help get you through it," Burt told the four-member class.

For information or to register for the next class, call Annie Lovering Steele, 792-1245 or e-mail health1st@musc.edu.

Friday, Jan. 29, 2010

The Catalyst Online is published weekly by the MUSC Office of Public Relations for the faculty, employees and students of the Medical University of South Carolina. The Catalyst Online editor, Kim Draughn, can be reached at 792-4107 or by email, catalyst@musc.edu. Editorial copy can be submitted to The Catalyst Online and to The Catalyst in print by fax, 792-6723, or by email to catalyst@musc.edu. To place an ad in The Catalyst hardcopy, call Island Publications at 849-1778, ext. 201.