New center supports bone health




by Cindy Abole




Public Relations


South Carolinians who are at risk for osteoporosis are set to gain from the expertise of a multidisciplinary team of specialists. These specialists can assist with early detection and provide comprehensive care through MUSC's new Center for Osteoporosis and Bone Health.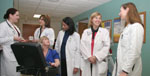 Rheumatologist Dr. Faye Hant, from left, talks with MUSC Center for Osteoporosis & Bone Health director Dr. Marcy B. Bolster at the new clinic's Rutledge Tower location. Also pictured are nurse coordinator Sheryl Naugle, and endocrinologists Drs. Jyotika Fernandes, Kathie L. Hermayer and Rheumatology's Dr. Diane Kamen. All six specialists are part of a comprehensive team approach to helping patients manage their bone health. Aside from rheumatologists and endocrinologists, the team includes radiology, neurosciences, interventional radiology, orthopaedics, psychiatry and physical and occupational therapy. Patients may be seen in downtown Charleston (Rutledge Tower), West Ashley, North Charleston and Mount Pleasant. To make an appointment, call 876-2663.



Osteoporosis is more often an undetected and undertreated disease because there are usually no symptoms until a fracture occurs. It's estimated that 10 million Americans, 50 and older, have been diagnosed with osteoporosis, a disease that results in the loss of healthy bone mass and deterioration of bone tissue. The areas commonly affected by this disease are the spine, wrist and hip. By 2020, more than 62 million people will suffer from osteoporosis, making them one of the fastest growing patient populations.

The new program, which opened in November, is part of the Musculoskeletal Service Line and brings together experts in rheumatology, endocrinology, inter-ventional radiology, orthopaedics, neurosciences, physical and occupa-tional, and physiatry to help patients suffering from vertebral fractures, osteoporosis and other bone health issues with a full range of treatment options and preventive strategies.

Experts can see or evaluate patients at Rutledge Tower and at other MUSC offices in West Ashley, Mount Pleasant and North Charleston. At the downtown and West Ashley offices, patients are assessed using the latest technology and tools available including the same-day dual energy X-ray absorptiometry or DXA scanner and expertise of both an osteoporosis-physician and radiologist to make quick interpretations. This device is more accurate than traditional X-rays measuring bone mineral density for patients who may suffer from osteoporosis or osteopenia.

Physicians who make up this service include: Marcy Bolster, M.D., Rheumatology and center's medical director; Jimmy Alele, M.D., Endocrinology; Rodney Daniel, M.D., Rheumatology; Jyotika Fernandes, M.D., Endocrinology; Faye Hant, D.O., Rheumatology; Beatrice Janulyte, M.D., Endocrinology; Diane Kamen, M.D., Rheumatology, Kathie Hermayer, M.D., Endocrinology, and Soon Ho Kwon, M.D., Endocrinology. Nurse coordinator is Sheryl Naugle, R.N., and Muskuloskeletal Service Line administrator is Nancy Tassin, R.N.

The center will provide coordinated care for patients diagnosed with known osteoporosis, osteopenia and related conditions. The team also is interested in treating patients who are high risk for fracture, especially men and women with a family history, post-menopausal women or individuals using specific medicines, such as steroids (i.e. prednisone). It is estimated that about 40 percent of women, age 50 and older, will suffer from an osteoporosis-related fracture sometime in their lifetime. The program also manages two specialized programs for geriatric fracture and a vertebral fracture clinic. Patients are evaluated, receive tests such as the DXA scan, are given a treatment plan, or can be quickly referred to any of the team's interdisciplinary medical specialists in rheumatology, endocrinology, orthopaedics, neuro-surgery, radiology and physical therapy.

"The program focuses on care and prevention," said Bolster. "Our patients follow a patient-centered, interdisciplinary approach to managing their bone health."

In addition, specialists are committed to patient education and awareness and plan to actively participate in medical screening opportunities and other community service.

To schedule an appointment, call 876-BONE or visit http://www.muschealth.com/osteoporosis.
Friday, Jan. 29, 2010