Pair rescue driver trapped in burning van




by Schuyler Kropf




Of The Post and Courier


This is a Christmas story that takes place on an isolated stretch of Interstate 26 deep in the woods of Berkeley County. A wrecked minivan caught fire, and trapped behind the wheel was 320-pound James Burrell.

As smoke filled the van, three guys in an ambulance showed up and had to race against the flames to save his life.

An almost routine trip to the Medical University of South Carolina from Orangeburg turned into a life-saving event Wednesday when two members of a Meducare ambulance crew used a rush of adrenaline to pull Burrell out of his badly damaged, burning van.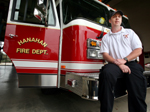 Brian Libby, a member of the MUSC Meducare team and a Hanahan fire captain, worked with Robert Kippes to free James Burrell from his crashed van.
photo by Grace Beahm, The Post and Courier


One of those rescuers, Brian Libby, a captain with the Hanahan Fire Department, said it was important that the rescue succeed, especially with Christmas just hours away.

"We knew we had to get him out," Libby said Thursday.

Libby was quick to share credit with pediatric respiratory therapist Robert Kippes, who helped free Burrell, and Mark Daniels, a nurse who stayed with the ambulance's primary passenger, a 23-month-old infant, and the child's mother.

Saving Burrell, 39, a delivery company driver from Columbia, was no easy task. His van had stopped about 50 yards deep into the woods, possibly after hitting a patch of ice on the highway. The van doors were locked from the inside, and he was trapped by the van's crushed dashboard.

His rescuers tried valiantly to get him out, including wrestling with the locked doors. Meanwhile, two fire extinguishers donated by bystanders weren't any good; one was too small to halt the fire, and the other was too old and didn't have any stream power left.

And as the fire began to build around Burrell's trapped feet, catching his pants aflame, he became aware that he might never get free. "He started hollering, 'Please get me out!'" Libby said.

Libby, who weighs about 200 pounds, and Kippes, who tips the scales at about 180, decided the only option they had left was their own muscles. Reaching across the passenger-side window that they had to break with a tree branch, the pair began tugging at Burrell's 6-foot, 4-inch frame.

After a few hard yanks the blockage that had kept Burrell trapped finally gave way, and the two rescuers pulled him free. Moments later, Burrell was helicoptered to Medical University Hospital and the ambulance continued with the baby, who was fine.

On Thursday, Burrell was recovering from a broken sternum, four hurt ribs, a broken arm, a broken pelvis, and burns.

He was heavily sedated and could not talk. His wife said the rescue was a Christmas miracle.

"It could have been different," Audrey Burrell said. "It's like God put the right people at the right moment to be there for him." The couple have three children, aged 8 to 20.

Libby agreed that a higher force directed his crew to be on the road at that moment.

"God put us there for a reason, to help him," he said.

This article ran in the Dec. 25 issue of the Post and Courier and is reprinted with permission


---
Friday, Jan. 8, 2010

The Catalyst Online is published weekly by the MUSC Office of Public Relations for the faculty, employees and students of the Medical University of South Carolina. The Catalyst Online editor, Kim Draughn, can be reached at 792-4107 or by email, catalyst@musc.edu. Editorial copy can be submitted to The Catalyst Online and to The Catalyst in print by fax, 792-6723, or by email to catalyst@musc.edu. To place an ad in The Catalyst hardcopy, call Island Publications at 849-1778, ext. 201.