MUSC, SCRA, Charleston open Innovation Center


The South Carolina Research Authority (SCRA), MUSC, and the City of Charleston held a grand opening ceremony Dec. 18, 2009, for the SCRA MUSC Innovation Center, Charleston, at 645 Meeting St.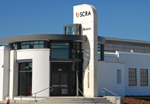 The fully-renovated facility attracts and supports start-up companies with wet lab and equipment space, primarily in concert with entrepreneurs commercializing MUSC research. With this collaboration, SCRA is fulfilling legislative mandates identified in the Innovation Centers Act focused on the commercialization of new knowledge-based health care discoveries.

"We celebrate the opening of the SCRA MUSC Innovation Center. This will be a vital research incubator and laboratory facility and will focus interest and attention on the capability of this area to foster the knowledge-based bio-tech industry. While continuing the city's commitments in the Cooper River Bridge Community Mitigation Partnership Agreement, the facility will bring significant economic development benefits of financial investment and job creation for the 21st century economy," said Mayor Joseph P. Riley Jr, City of Charleston. "In addition, the community is looking forward to the benefit of a 24- hour police substation as well as a new community meeting room."

Four start-up companies, all created from technology formed at MUSC, are already slated to be headquartered in the new center as of January:

Immunologix has created a technology that allows replication of human antibodies from cells recovered from discarded immune tissue, such as whole blood or tonsils. This technology meets the current need of antibody-based therapeutics through an in-vitro system.
Neurological Testing Services—Investigates pharmaceutical compounds in models associated with neuro-degenerative diseases including Parkinson's, Alzheimer's, stroke and epilepsy.
Vortex Biotechnology Corp.—Vortex focuses on the development of inhibitors of Pim protein kinases, which are key regulators of prostate cancer and certain leukemias. Vortex designs, synthesizes and evaluates proprietary Pim inhibitors, with the goal of moving an agent into clinical testing for the treatment of cancer.
"Our partnership with MUSC and the City of Charleston is a prime example of effective collaboration that fosters the Knowledge Economy in South Carolina," said Bill Mahoney, SCRA CEO. "SCRA is dedicated to improving the economic environment in Charleston and across South Carolina by investing our capital in an infrastructure that is supporting the creation of high-paying, knowledge economy jobs."


Bill Mahoney cuts the ribbon dedicating the South Carolina Research Authority MUSC Innovation Center Dec. 18. Assisting Mahoney are Dr. Ray Greenberg, left, and Joseph P. Riley. The center is located at 645 Meeting St.



"The opening of the Innovation Center marks a signal event for economic development in Charleston and South Carolina," said Ray Greenberg, M.D., Ph.D., MUSC president. "The young companies housed in the incubator, many spun off from research at the Medical University, will be the engines that drive the development of the bioscience industry in the future. We are so pleased to partner with the City of Charleston and SCRA to meet this important need."

Mahoney said the property provided by the City is a key location for an innovation center that provides easy access, visibility and economic opportunity for the citizens of Charleston. "Now operational, this facility is a technology-based cornerstone for the upper Meeting Street area that will complement nearby retail and residential developments," he said.

SCRA has provided funding and support for 130 new knowledge-based start-ups in South Carolina since its inception in April, 2006 through its S.C. Launch program. That program has attracted more than $71M in add-on private equity investment in South Carolina companies. According to a recent survey by The University of South Carolina Moore School of Business, jobs facilitated by SCRA and SC Launch provided per capita annual wages between $55,000 and $77,000 and made a $1.4B economic contribution in South Carolina in 2007.



Friday, Jan. 8, 2010

The Catalyst Online is published weekly by the MUSC Office of Public Relations for the faculty, employees and students of the Medical University of South Carolina. The Catalyst Online editor, Kim Draughn, can be reached at 792-4107 or by email, catalyst@musc.edu. Editorial copy can be submitted to The Catalyst Online and to The Catalyst in print by fax, 792-6723, or by email to catalyst@musc.edu. To place an ad in The Catalyst hardcopy, call Island Publications at 849-1778, ext. 201.