For the third year in a row, Closing The Gap in Health Care Inc., a successful health promotion and radio broadcast education campaign established by Thaddeus Bell, M.D., of the College of Medicine, was honored and recognized for two silver and a merit award in the 17th Annual National Health Information Awards. This program recognizes the country's best consumer health information programs and materials.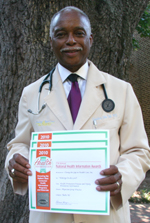 Dr. Thaddeus Bell with the Closing The Gap awards.
The radio ad, "Why Brothers Die Early," won a silver award in the area of patient education information (physician/group practice division). Also winning silver was the entry, "Waiting on the Lord," which was honored for the health promotion, disease and injury prevention information class (physician, group practice).

A third radio piece, "You Need that Mammogram," also earned a merit award in the same class and division. These public service announcements were featured locally in WMGL Magic 107.3 FM and WWWZ 93.3 FM, as well as several Midlands radio stations.

"It's an honor to continue to be recognized by the National Health Information Awards program and others," said Bell. "This recognition helps validate our work and continuing effort to improve the health and health literacy of African-Americans living in the Tri-county area and communities throughout South Carolina."

The awards are coordinated by the Health Information Resource Center, a national clearinghouse for consumer health information programs and materials.

Friday, Oct. 1, 2010