Latin gets hot




by Dawn Brazell




Public Relations


It's the music that stops most people walking down the hallway at MUSC's Wellness Center on a Saturday morning.

And, if not the music, then the rolling hips and saucy footwork.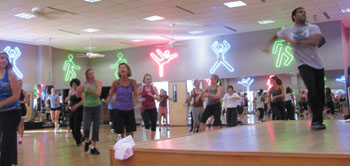 James Johnson leads a Saturday morning Zumba class at MUSC Wellness Center.
To watch the video, visit http://www.musc.edu/pr/zumba2.mov.

The latest fitness craze is Zumba, a Latin-inspired fitness class that has participants doing everything from the salsa to belly dancing. Eleanor Durgee said she was hooked by the music. She stopped one day to watch the class and wondered if she could possibly do the dance moves. It looked too fun to pass up.

She had faced breast cancer after all. Surely she could face some Latin moves. She tried it, and got hooked, she said.

"It's not only a destressor, but it makes me more energized. My whole day is changed."

Durgee knows it's important for her recovery to be active and fit. What she didn't expect from the class, though, was the uplift in spirits.

"Being a breast cancer survivor, you want to get your life back again. It lets you know you can move on."
James Johnson, personal trainer and group exercise director at MUSC's Wellness Center, said he thinks the class is so popular because it makes working out feel as if it were a party. He's one of three Zumba instructors at the wellness center.



Zumba instructor Silvia Veana enjoys teaching and taking classes.



A well-designed and choreographed Zumba class is easy enough for beginners to move vigorously yet offers variations that challenge the movement skills and athleticism of the more fit exerciser or dancer, he said.

"The music is a major factor. It transports you to Havana, Buenos Aires and other international hot spots for the ultimate party experience."

As of May, the Zumba program was being taught at more than 60,000 locations in 105 countries, according to its Web site. Johnson, who leaves the class soaked, said it's a great cardiovascular workout that also incorporates functional movements to strengthen and tone. The participants are all ages and weights.

Even men come.

George Moultrie, a personal trainer at the wellness center, said Johnson asked him to try out the class and to help some participants of Healthy Charleston Challenge, a weight-loss program sponsored by the wellness center, who were interested in trying something new.

Moultrie enjoyed it so much that he comes to work out for himself as well. "It's a workout, but it doesn't feel like a workout. It's a way to let lose at the end of the week. It's a great way to let your guard down for about an hour."

Some men think it's going to be too fancy, but Moultrie said the only skill required is to be able to walk on two feet.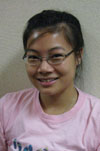 Quyen Pham



Quyen Pham, a second-year medical student, said she was nervous about how she would do in the beginning. She was attracted by the different dances and the music. Johnson is another big draw.

"He makes me laugh," she said, of the instructor who's known to throw some entertaining "performance" moves into his class. For Johnson, who has been dancing professionally since 1994, it's doing what feels natural. He's glad to see how popular the Latin class has become since it's one of his favorite ways to sweat.

"Personally, I love the international, culturally-influenced dances, the high energy music and the amount of work you do without feeling like you're working out. The way a dancer carries his or her body when walking or sitting is a thing of beauty and a celebration of just being."



Want to try it?


Zumba classes are offered at noon and 6:30 p.m.on Tuesdays and Thursdays and at 9:05 a.m. on Saturdays.

Friday, Oct. 29, 2010

The Catalyst Online is published weekly by the MUSC Office of Public Relations for the faculty, employees and students of the Medical University of South Carolina. The Catalyst Online editor, Kim Draughn, can be reached at 792-4107 or by email, catalyst@musc.edu. Editorial copy can be submitted to The Catalyst Online and to The Catalyst in print by fax, 792-6723, or by email to catalyst@musc.edu. To place an ad in The Catalyst hardcopy, call Island Publications at 849-1778, ext. 201.