New experiences shed light on selecting specialty

Editor's Note: Chelsey Baldwin of Little River is a first-year medical student. This column follows the journey of her class in becoming doctors.

New experiences shed light on selecting specialty As yet another test draws near, I find myself wondering, what has happened to September and October? The beauty of these months has faded into the background of the constant stream of demands placed upon me. At times I'm furious that this is what my life has become, never-ending e-mails, to-do lists I never seem to finish and formaldehyde-ridden laboratories. And yet, I know this is what I want.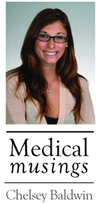 This is evident to me through the genuine fondness I feel toward my future colleagues and the pure excitement I experience when I begin to contemplate my own future in medicine. Envisioning myself as the physician I will become and the nature of the relationships I will have with my patients has been one of my favorite aspects of my medical education thus far. While initially it is a pain to break myself away from my book work in order to learn about a physical exam or interview skills, I truly enjoy conducting them. It is during these interviews and exams when I can most clearly envision my years beyond the classroom. While this vision changes pretty regularly as I change the specialty I think I might pursue with what seems like every three weeks, it has been a quite enjoyable journey even this early on. I've gone from thinking about emergency medicine, to surgery, with interests in rheumatology and most recently thoughts of pediatrics. While it may seem fickle, I think my consistent changing-of-mind is a product of the expansion of knowledge about not only myself but also of the plethora of amazing careers in medicine.

I recently attended a lecture by Dr. John McFadden in which he described the design of various hand repair surgeries stunningly unique to the necessity of the patient. It was so truly amazing that "ooh's" and "ahh's" ran rampant throughout Baruch auditorium as toes and index fingers became thumbs, and cutaneous nerves of the anterior forearm were moved to the back of hand and so on and so forth. Such a lecture was enough to incite increasingly fond feelings toward orthopaedic surgery in many of us.

Similarly, I was fortunate enough to stumble across Dr. Stephen Schabel's Student Radiology Seminars early on in the semester. He presented us with the "rules of radiology" through which he predicted the sex, age and injury of various cases by just observing the patients X-rays. The amount of information derived from a simple radiograph is extremely impressive and rather fun to sort out. This was yet another experience that added depth to my appreciation of the possibilities for my future.

It's very encouraging to see that so many physicians take such joy in what they do. It encourages me to push through the tough times as a lowly medical student and to put as much thought as I can scrounge up the time for, to think about what career in medicine will incite the same passion for me as I have observed my mentors have for their careers. While I am sure that I am far from a final decision on a specialty, I have become conscious of observing what aspects of a career are important to me, including the type of relationship I wish to have with my patients, the careers that fit my strengths, and the personal life I hope to one day find time for.

Until that glorious day when the answer falls into my lap and I know exactly what is the right path leading to a fulfilling professional and personal life, I settle for squeezing life into the in-between moments. Beyond keeping myself motivated with thoughts of the future, learning to "fit life in" has been key to my improved satisfaction. I've been to birthday parties thrown during lunch breaks. I socialize and tell jokes while picking fat off our cadaver. I've begun to learn how to adapt to my new life and can't help but be pleased with my progress.


Friday, Oct. 29, 2010

The Catalyst Online is published weekly by the MUSC Office of Public Relations for the faculty, employees and students of the Medical University of South Carolina. The Catalyst Online editor, Kim Draughn, can be reached at 792-4107 or by email, catalyst@musc.edu. Editorial copy can be submitted to The Catalyst Online and to The Catalyst in print by fax, 792-6723, or by email to catalyst@musc.edu. To place an ad in The Catalyst hardcopy, call Island Publications at 849-1778, ext. 201.